List of all mini-games in Mario Party: Superstars thus far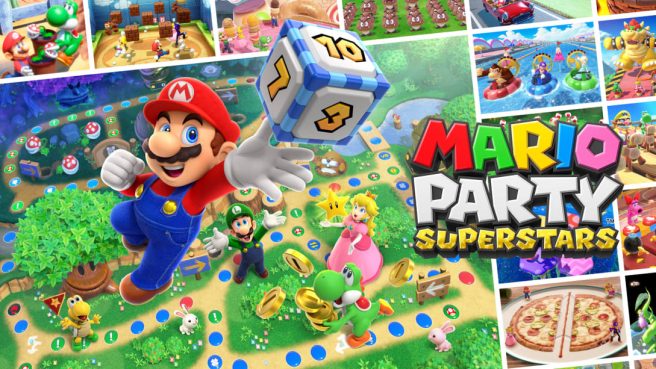 The next Mario Party entry is due out later this year with Mario Party Superstars. Five boards from the N64 era are returning, and Nintendo is also bringing back a ton of mini-games from previous entries.
GameXplain has shared the lineup of confirmed mini-games thus far based on the initial trailer, Treehouse: Live footage, and more. Get the full list below.
Mario Party 1
Mushroom Mix-Up
Face Lift
Handcar Havoc
Bobsled Run
Shy Guy Says
Hammer Drop
Bumper Balls (may be from Top 100 due to what's shown in key art)
Slot Car Derby
Tug o' War
Mario Party 2
Look Away
Archer-ival
Bowser's Big Blast
Sneak 'n' Snore
Sky Pilots
Honeycomb Haboc
Bumper Balloon Cars
Tipsy Tourney
Dungeon Dash
Balloon Burst
Crazy Cutters
Mecha-Marathon
Roll Call
Cake Factory
Mario Party 3
Boulder Ball
Mario's Puzzle Party
Tick Tock Hop
Snowball Summit
Coconut Conk
Etch 'n' Catch
Messy Memory
River Raiders
Puddle Paddle
Parasol Plummet
Vine With Me
Storm Chasers
Mush Pit (Toadstool Titan)
Tidal Toss
Bobbing Bow-loons
Rockin' Raceway
Cheep Cheep Chase
Eatsa Pizza
Mario Party 4
Booksquirm
Reverse-a-Bomb
Trace Race
Beach Volley Folly
Mario Party 5
Pushy Penguins
Coney Island
Leaf Leap
Squared Away
Mario Party 6
What Goes Up
Rocky Road
Catch You Letter
Mario Party 7
The Final Countdown
Pokey Pummel
Mario Party 8
None (so far)
Mario Party 9
Goomba Spotting
Shell Soccer
Mario Party 10
Skewer Scurry
Rapid River Race
Unknown (possible name change)
Tread Carefully
Mario Party: Superstars is slated for October 29 on Switch.
Leave a Reply