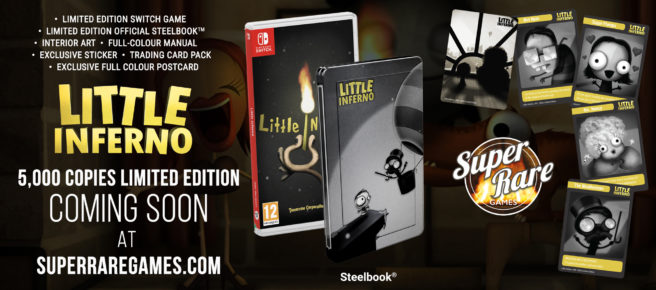 Super Rare Games has announced a partnership with Tomorrow Corporation to produce a physical version of Little Inferno. Pre-orders open on May 7.
Standard copies will be sold for £29.99. A steelbook version will also be available for £44.99. Copies include a 20-page full color manual, interior artwork, exclusive sticker, as well as three trading cards randomly selected from the five-card set.
Here's some information about Little Inferno:
Little Inferno is an unusual game filled with surprise and wonder, and even better the less you know about it before playing!

Congratulations on your new Little Inferno Entertainment Fireplace! Throw your toys into your fire, and play with them as they burn. Stay warm in there. It's getting cold outside!

Burn flaming logs, screaming robots, credit cards, batteries, exploding fish, unstable nuclear devices, and tiny galaxies. An adventure that takes place almost entirely in front of a fireplace – about looking up up up out of the chimney, and the cold world just on the other side of the wall.

– Now multiplayer! Grab the other Joy-Con and play with a friend!
– From the creators of World of Goo and Henry Hatsworth in the Puzzling Adventure.
– Multiple nominee in the Independent Games Festival for the Grand Prize, Nuovo Award, and Technical Excellence, with honorable mentions in Best Design and Best Audio.
– 100% indie – made by 3 guys, no office, no publishers, no funding.
Leave a Reply