Logic puzzle game Pictooi, from Mutant Mudds dev Atooi, gets surprise release on Switch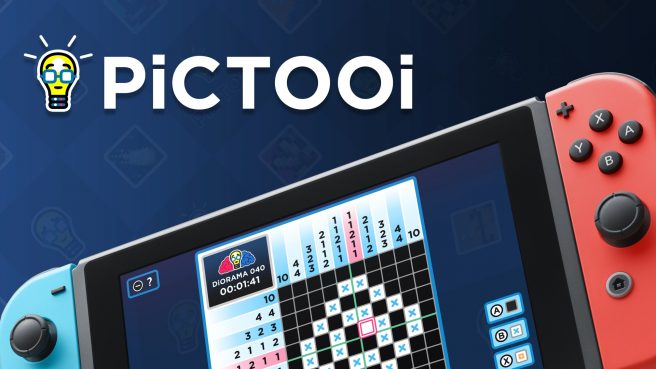 Mutant Mudds developer has just released a new title on Switch. Pictooi, which features logic puzzle gameplay, can be found on the eShop. Limited Run Games is handling publishing duties.
Here's everything you need to know about Pictooi:
Welcome to Pictooi, a rewarding logic puzzle game where you fill in cells to solve puzzles and reveal pictures. Professor Ishida is your host, mentor, and friend.

Approachable:
Suitable for beginners and experienced nonogram lovers. Pictooi features 300 logic puzzles, ranging from easy to challenging, across board sizes of 5×5, 10×10, 15×15, and 20×20.

Modes:
Classic mode features ten neatly categorized pages of 180 logic puzzles, including fun categories such as nature, music, and space! It is fun to discover how the puzzles on each page relate to one another.

Diorama mode contains ten mysteriously silhouetted dioramas, featuring 120 logic puzzles. Solving each logic puzzle reveals a portion of a diorama. Revealing each mysterious diorama is very satisfying!

Progress:
Your puzzle-solving progress is recorded in a few different ways, enabling you to keep track of your accomplishments. The more logic puzzles you complete, the higher your brain level goes!

Set your own pace. Take the time YOU need to complete each logic puzzle. Your time is tracked as exercise time. Enjoy the process of challenging your mind, knowing each minute may be a benefit to your brain.

All of your data is displayed on a simple and easy-to-read calendar, providing the perfect snapshot of your progress.

Assistance:
If you are a newcomer to nonograms or perhaps it has been a little while since your last logic puzzle, there is a simple and easy-to-follow tutorial included.

Assist mode informs you of each mistake made, helping you develop your understanding and strategies towards solving logic puzzles.

If you find yourself stuck on a puzzle, you can activate the helper, which completes an unsolved row and column for you.
Pricing for Pictooi is set at $9.99 / £7.49 / €8.29 on the Switch eShop. Note that the European release will be taking place next week.
Source: Atooi PR
Leave a Reply