Lord Winklebottom Investigates release date set for July, new trailer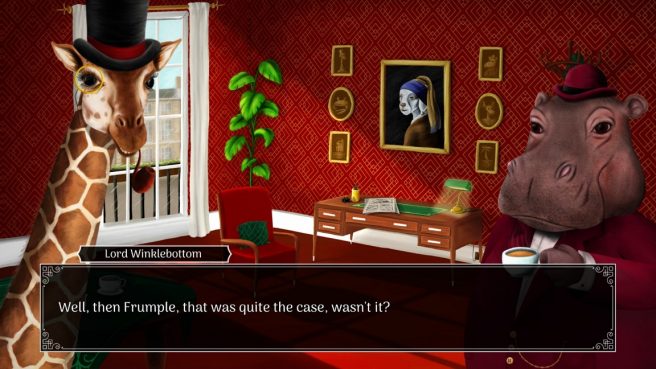 Cave Monsters has announced a release date for Lord Winklebottom Investigates, its 1920s-inspired point-and-click adventure title. Switch will be receiving the game on July 28, 2022.
Lord Winklebottom Investigates was originally funded on Kickstarter in 2019.
Here's an overview of the game:
In Lord Winklebottom Investigates, head back in time to the 1920s and assume the role of dapper giraffe detective Lord Winklebottom in a daring quest to solve the murder of an old friend.

Inspired by British literature icons such as Agatha Christie and Sherlock Holmes, Lord Winklebottom and his tea-drinking hippo companion Dr. Frumple will enjoy a journey full of intrigue and secrets that will keep mystery fans gripped. This is a game with plenty of heart, featuring a script and setting full of bizarre characters and humour that wouldn't be out of place in a Monty Python or Blackadder sketch.

Players who are behooved to crack the case will do so by solving puzzles and interrogating a variety of animal NPCs. Including grog-loving seagulls, a bleating goat as a maid, and a puffin in a fetching yellow sou'wester, each 2D character has unique, hand-painted artwork. Point and click your way through the game and seek justice for your fallen friend!
Find a new trailer promoting the release date news for Lord Winklebottom Investigates below.
Lord Winklebottom Investigates will cost $18.99 / £15.99 / €18.99 on the Switch eShop.
Source: Cave Monsters PR
Leave a Reply