Lumines Remastered getting a physical release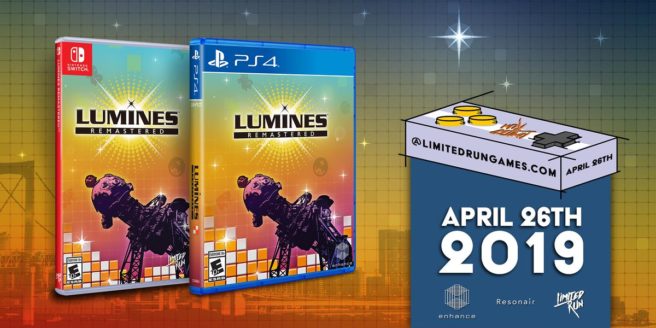 Update (4/26): Pre-orders are now open. The various options can be found on Limited Run Games' website (here.
---
Original (4/22): Limited Run Games will offer a physical version of Lumines Remastered, the company has announced. Pre-orders open this Friday at 7 AM PT / 10 AM ET. Fans can reserve a copy until May 10.
If you're not interested in the physical release, you can find Lumines Remastered on the Switch eShop.
The acclaimed Lumines soundtrack gets a Limited Run on vinyl this Friday, April 26. This double LP set is limited to just 1,000 copies available worldwide, and will be available in two batches at 10am and 6pm EDT on https://t.co/5Lksol4sqo. pic.twitter.com/vixwfeaV59

— Limited Run Games (@LimitedRunGames) April 22, 2019
Lumines Remastered will also be available as a Deluxe Edition for PS4 and Switch this Friday, April 26 at 10am and 6pm EDT. Complete with a copy of the game and a color variant of the soundtrack on vinyl, these editions will be ready to ship immediately following the sale! pic.twitter.com/ooS3Zbtfg9

— Limited Run Games (@LimitedRunGames) April 22, 2019
Are you a Lumines superfan? You'll want to get the Ultimate Block Rockin' Edition for Nintendo Switch, which includes the game, soundtrack on vinyl, certificate of authenticity signed by @Mizuguchitter, and more all in a light-up box complete with sound! https://t.co/5Lksol4sqo pic.twitter.com/nCFoizhMGe

— Limited Run Games (@LimitedRunGames) April 22, 2019
Our crazy-packed Ultimate Block Rockin' Edition of Lumines will also be available for the @PlayStation 4! Act quickly — this ultimate edition will only be available in limited quantity at 10am and 6pm EDT this Friday, April 26 on https://t.co/5Lksol4sqo. pic.twitter.com/AE9bAHZMHK

— Limited Run Games (@LimitedRunGames) April 22, 2019
Leave a Reply