March to a Million due out on Switch next week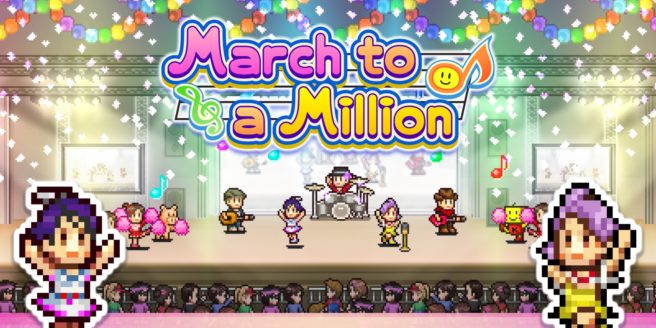 Next week, Kairosoft will be rolling out yet another simulation title on Switch. March to a Million, a game that has players being the boss of a talent agency, is slated for December 5.
Here's some additional information and a trailer:
Become the boss of a talent agency in this management simulation game!

Hire up-and-coming unique talent by advertising and scouting!

Start by deciding on a record company. Give your new artists lessons and steady training, and if they can dazzle the judges in the auditions, they'll get the chance to debut as a professional singer!

Once they've debuted, hold events and jobs around the country, produce albums and have them interact with fans at concerts to raise their popularity! If they get famous, they might even be able to guest star on popular TV shows!

As their fans increase, you'll get access to more jobs and sell more albums and merchandise! Build a wide fanbase and aim for the prestigious music prizes from each record company!

What are you waiting for? It's time to go for the greatest prize in show business, the Million Award! The March to a Million begins now!
March to a Million will cost $14 on the Switch eShop. Pre-loading is now available.
Source: Switch eShop
Leave a Reply