Mario Golf: Super Rush giving out Boo visor as Ranked Match reward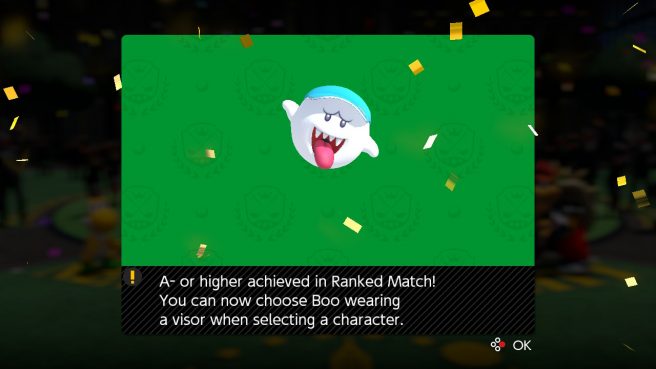 Mario Golf: Super Rush players can now obtain a Boo visor as part of this month's Ranked Match reward. To unlock it, you'll need to reach A- or higher in the mode. Players can then choose Boo wearing a visor while selecting a character.
Mario Golf: Super Rush just introduced Ranked Match in its big 2.0.0 update in August. In the online competitive mode, players choose their controls and character, then select Standard Golf or Speed Golf to be automatically matched up with other players. Participate in Ranked Match to earn and collect monthly match points to increase your rank. Nintendo resets the monthly match points, rank, and global ranking at the end of every month, though it's possible to review past records.
In August, players were able to earn a Red Yoshi, Blue Yoshi, or Yellow Yoshi in Ranked Match. These rewards are gone for now, but could return at a later date. The Boo visor in Mario Golf: Super Rush will also likely disappear – at least for some time – at the end of September.
Aside from Ranked Match, Mario Golf: Super Rush version 2.0.0 added Toadette as a playable character, introduced the New Donk City stage, and more. Read more about the update here.
Thanks to Cameron for the tip.
Leave a Reply