Mario Golf: Super Rush giving out Toad colors for Ranked Match reward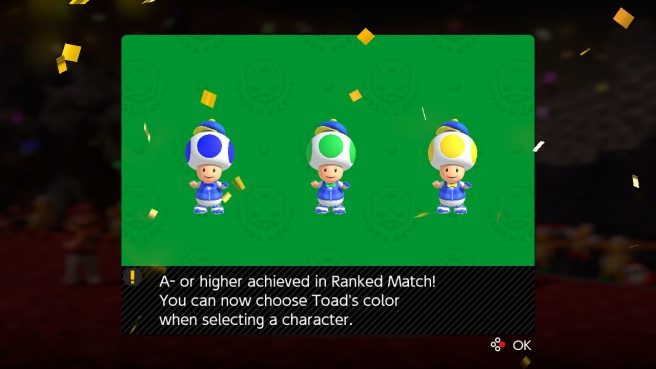 Mario Golf: Super Rush is now letting players earn different colors for Toad. This comes as part of the game's Ranked Match for October.
Each time a new month rolls in for Mario Golf: Super Rush, the Ranked Match resets and players can earn a new reward. Toad variations are the featured reward this time around, as players can choose between blue, green, and yellow if they reach a high enough rank. You only need to hit the A- rank for the color options to unlock, though you'll need to do so by the end of the month. On the character select screen in Mario Golf: Super Rush, if you hover over Toad, keep pressing the "L" button to cycle through the color options.
For last month's reward in Mario Golf: Super Rush, players were given a chance to unlock a Boo visor. However, it was limited to September. Now that Toad has taken the spotlight, it's currently impossible to claim the visor if you haven't already done so. It's possible that it could pop up again down the line, but it'll definitely be several months until that happens.
Mario Golf: Super Rush is now available for Switch. Access the official site here.
Leave a Reply