Mario Kart Tour announces upcoming Animal Tour and Moo Moo Mii Racing Suit
Posted on November 11, 2022 by Nicolas in Mobile, News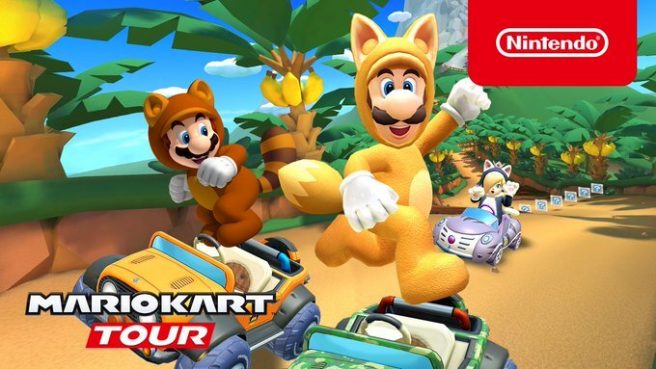 Mario Kart Tour has announced that the next Tour coming to the game will be an Animal Tour. The Tour will feature a new returning course, GCN DK Mountain, as well as a number of new driver and kart elements, including a version of Luigi using the Super Leaf power-up.
Wave 19 of Mii Racing Suits will also be made available, with this wave consisting of one suit based on the cows from fan-favorite course Moo Moo Meadows.
You can watch trailers showcasing the new Animal Tour and Moo Moo Mii Racing Suit below.
The Autumn Tour is wrapping up in #MarioKartTour. Next up is the Animal Tour, the stage for which is the new GCN DK Mountain course! It'll be a super thrilling ride full of natural attractions! pic.twitter.com/f5s82SfaAT

— Mario Kart Tour (@mariokarttourEN) November 11, 2022
It's time for Mii Racing Suits wave 19 in #MarioKartTour! New Mii Racing Suits are coming in the next tour. Check out the video for more information! pic.twitter.com/CxD7G5DMoN

— Mario Kart Tour (@mariokarttourEN) November 11, 2022
Mario Kart Tour's Animal Tour and Wave 19 Mii Racing Suit will go live on November 15, at 10 PM PT.
Leave a Reply