Meet Ubitus, the company behind Switch's cloud-powered games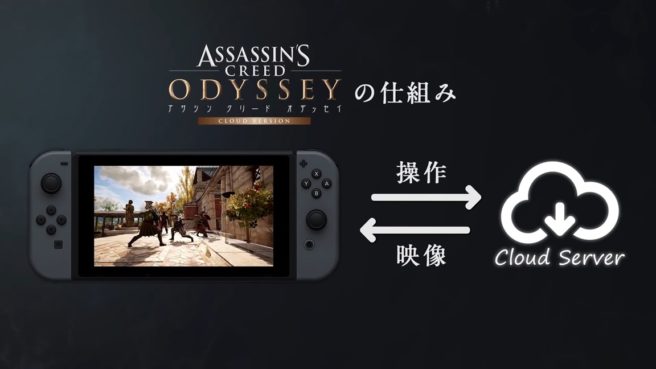 Switch has seen the release of a few cloud-powered games. Phantasy Star Online 2 kicked things off, followed by Resident Evil 7 and most recently Assassin's Creed Odyssey.
There's one company behind all of these games on Switch: Ubitus. Though the titles are only available in Japan, it's worth getting some insight into how they're running and the tech behind the service. For that reason, we've gone ahead and translated an interesting interview with director of game development Ko Midoro and SVP of global business development Ozan Kocoglu, which was recently conducted by Famitsu.
We've posted our full translation below. The interview was centered around Assassin's Creed Odyssey, but the entire interview is quite noteworthy and applies to Ubitus as a whole.
So, how does the game run?

Midoro: To explain it simply, the actual game is running on our company's servers. All of that picture and sound data is sent to the user's Nintendo Switch, and then the input on the controller from the user is sent back the same way, and that's how the game runs.

How did this project originally start off?

Ozan: In April 2018 we released the cloud versions of Phantasy Star Online (SEGA Games) and then in May 2018 we released the cloud version of Resident Evil 7: Biohazard (Capcom), and on the merits of those two games it was decided we would co-develop titles with Ubisoft as well. We also talked with Ubisoft's CEO, Yves Guillemot, about developing other games, but Assassin's Creed Odyssey seemed liked the perfect opportunity, and the series is already a favorite with fans. So, we started there.

With the Switch being so different to other platforms, were there any issues with response times or lag?

Midoro: No that wasn't a problem. We changed the user interface to better suit the Switch, but the game runs on the same basic spec and with the same data exchange as the PC version. On our side too we are working now on optimizing the networks to ensure users have a lag-free experience. The recommended network is 802.11ac 5GHz for Wi-Fi and if possible we would recommend using a LAN adaptor for a wired connection. But we've also conducted tests in-house with a 4G wireless connection, and as long as the network is strong there should be no problems playing that way.

Ozan: We've set up a robust infrastructure in order to create an environment where players can enjoy the game and we're committed to preventing any sort of issues.

Midoro: Even for gamers wanting to play at high spec, the servers are equipped to adapt to each network and adjust speed automatically, so as long as you have the appropriate connection speeds, the game can be played at top spec.

The amount of games playable on the cloud is increasing, but what do you think are the merits of cloud-based games?

Ozan: First off, porting a game with such a huge and rich world would obviously take a lot of time and money. Also, getting a port that recreates the same experience as the PC version can be very difficult. In order to deliver that high-end experience, the best option is cloud gaming. Also, with big games the necessary storage data can really build up and updating can take a really long time. With cloud gaming, though, because the updating occurs on the actual server, it takes far less time and effort. For this game, it's necessary to download the free 44MB launcher, but aside from that nothing more is required to play the most up-to-date version of the game.

Midoro: From a developer's point of view too, being able to offer the PC build of the game on various platforms is definitely a huge selling point. I think it's also great that we can shorten that time of porting and get the game to players much faster.

I get the feeling that the amount cloud games might start increasing rapidly.

Midoro: The time might be coming when people can play games in the same way they watch YouTube. Cloud gaming definitely has that potential.

Ozan: Ours is a company that provides technology solutions, but we are all also of a mind-set to improve entertainment value and ensure players enjoy their games as much as possible. Also, there's the fact that all of our members are gamers… (Laughs)

So you can see things from a gamer's point of view.

Midoro: Ozan and I, and also the developer and the publisher all have that experience, so we take the gamer's standpoint very seriously. Also, because every game has distinctive differences, we try our best in the optimization process to put across the unique appeal of each game. On this game too, we are working alongside the Ubisoft development team to ensure we really transmit everything they want.

Ozan: First off, in order to test the network capabilities, the player completes a free twenty-minute network play test. If that goes well, they can proceed to the Nintendo eShop and buy a 730 day usage ticket. The play test can be done as many times as needed, so it's possible to use it to test the suitability of any network, wherever you are.

Midoro: The save data is also handled by the cloud, so even if the player's Nintendo Switch breaks they can use their account on another console and continue their game. We'll also be handling the release of future downloadable content so that players will be able to enjoy the same experience as on other platforms, so please don't worry about that.
---
Translation by provided by Corks on behalf of Nintendo Everything
If you use any of this translation, please be sure to source Nintendo Everything. Do not copy its full contents.
Leave a Reply