Mega Lucario challenge returns to Pokémon Shuffle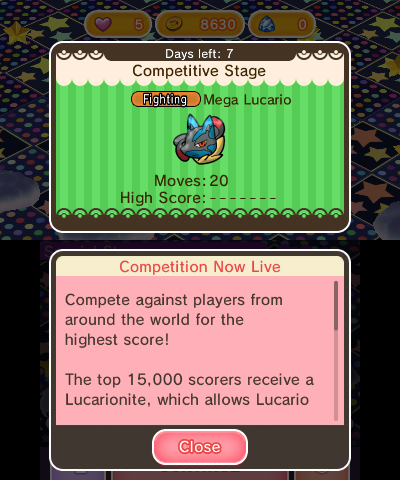 About two months ago, Pokémon Shuffle players were given the chance to challenge Mega Lucario in a timed battle to rack up as many points as they could. If a player were to have a high enough score in their region, they would receive a Lucarionite that couldn't be obtained by normal means. For those that missed out on the event or weren't able to obtain it the first time around, now's your chance for redemption!
The Mega Lucario challenge has returned and is once again giving players the chance to get their Lucarionite. As it was the first time around, you have to be ranked top in your region: 15k in Europe, 30k in North America, and 65k in Japan.
For those that already have the Lucarionite, you can still enter, but once the challenge is finished, you'll receive two Jewels. For those that don't get top in their region and don't have a Lucarionite, you will get one Jewel.
Be sure to Check In and download the new 1.1.13 patch to gain access to the Mega Lucario challenge. This event runs until May 25th.
Leave a Reply