Melty Blood: Type Lumina update adding Ushiwakamaru and The Count of Monte Cristo, more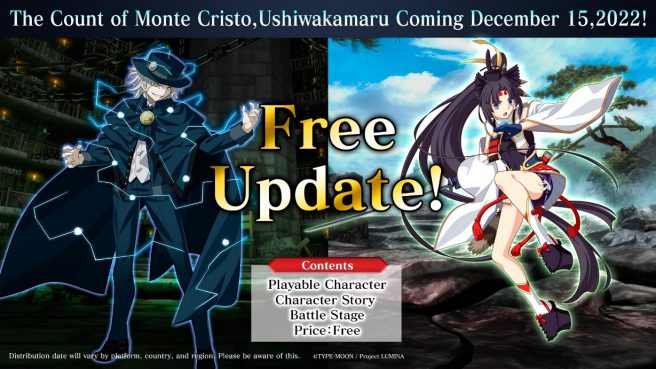 The next major update for Melty Blood: Type Lumina will be released next week featuring Ushiwakamaru and The Count of Monte Cristo as new playable characters, it's been announced. Players can access it starting on December 15, 2022.
Ushiwakamaru and The Count of Monte Cristo are characters who appeared in the smartphone game Fate/Grand Order, and are now coming to the Switch fighter. On top of that, Face the Surging Waves and Prison Tower – Hall will be added as new stages. The two originate from Ushiwakamaru. Other additions include Boss Rush with a story written by Kinoko Nasu, ten free remastered music tracks from Melty Blood: Actress Again, four new color variations / color palettes for all characters, roughly 530 free words that can be used in "Customize", and support for Spanish, French, and Brazilian Portuguese.
Here's some information about Ushiwakamaru and The Count of Monte Cristo in Melty Blood: Type Lumina:
Ushiwakamaru
Ushiwakamaru has a battle style that is speedy and allows her to run freely around the field to take opponents by surprise, moving in quickly from the ground or the air to toss them around.

She has many moves that allow her to instantly close gaps, and she is able to employ a variety of movements in the air. She is also very adept at breaking through opponents' guarding with overhead, low attacks, and tricky movements. Her battle style is also great at taking advantage of gaps in her opponents' defense to quickly and decisively strike them down.

Control the pace of the battle with her highly mobile hit-and-run style and use the whole field to launch an attack!
The Count of Monte Cristo
The Count of Monte Cristo has many moves with both broad and long ranges. This character excels at battle tactics that rush in to attack when an opponent is trapped, putting him at the advantage.

The Count of Monte Cristo also possesses well-balanced offensive and defensive skills. He uses command throws and overhead and low attacks that branch into a variety of attacks to put pressure on opponents, strategically and tactically backing them into a corner. In addition, many of his normal skills also work excellently as placement skills and are powerful when used aggressively.

Use preemptive strikes that create chances for yourself, and wear down your opponents before moving in for the attack!
We also have the following trailers for the new characters:
Melty Blood: Type Lumina is currently available on Switch.
Leave a Reply