Metallic Child will have Sakuna: Of Rice and Ruin collaboration DLC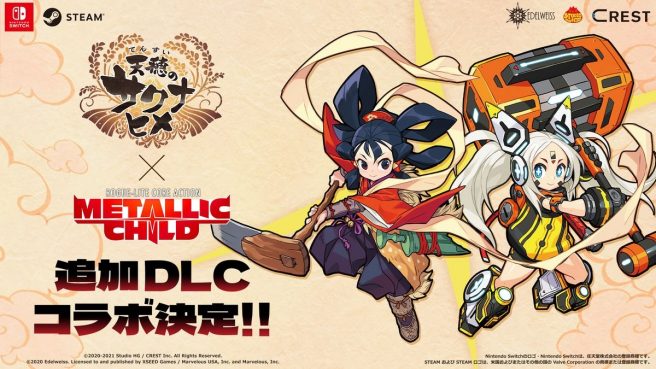 Metallic Child is teaming up with Sakuna: Of Rice and Ruin as part of a new collaboration, Crest announced this week. Actual details have not been provided at this time. We only know that Princess Sakuna will be appearing in the game in some fashion. We'll pass along more information about the DLC once it's announced. For now, check out the teaser image above.
Sakuna: Of Rice and Ruin continues to maintain its presence throughout games as a whole since we originally saw it last November. Just a few days ago, it was revealed that the "Princess Sakuna's Heavenly Garb" outfit will be made available soon in Story of Seasons: Pioneers of Olive Town. Additionally, spirits based on the title were added to Super Smash Bros. Ultimate earlier in the summer. A special Pop Up Parade figure is also in the pipeline.
Metallic Child is a rogue-lite core-action game featuring the android known as Rona, and is set in a space laboratory in the not-to-distant future. The game will be out for Switch on September 16. Although it will be digital-only in the west, you can import a physical copy from Asia with English support – we have more details about that with pre-order information here.
Leave a Reply