Mighty Switch Force! Collection Switch rating appears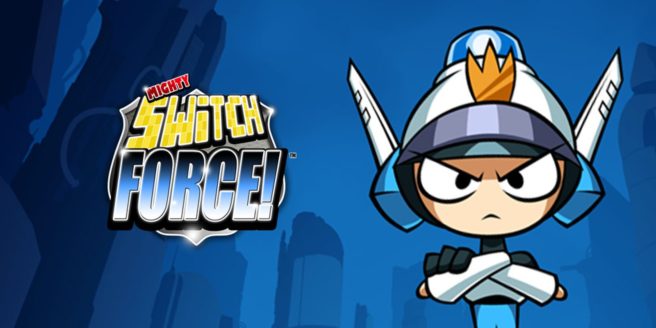 Shantae developer WayForward created Mighty Switch Force! for 3DS back in 2011, with a sequel that followed roughly two years later. Both eventually found their way to Wii U. All of these years later, WayForward looks to be revisiting the Mighty Switch Force! titles once again.
Mighty Switch Force! Collection was rated in Europe for Switch and other platforms today. The classification mentions four titles. This suggests that along with Mighty Switch Force! and Mighty Switch Force! 2, it'll also include the Steam games Mighty Switch Force! Hose It Down and Mighty Switch Force! Academy.
Here's an introduction to all four:
Mighty Switch Force! Hyper Drive Edition

About

Space Hooligans have escaped custody and are wreaking havoc all over Planet Land!

HQ calls on cybernetic peace-keeper Patricia Wagon to bring these renegades to justice. With the help of Corporal Gendarmor and her trusty Pellet Gun, there's nothing she can't handle. When the going gets tough, Wagon activates her Helmet Siren, altering the world around her. Enter the mechanical shape-shifting, dimension switching world of Mighty Switch Force! Hyper Drive Edition and blow crime away.

Key Features

The third game in WayForward's Mighty series now in glorious 1080p.
Run and gun action meets brain teasing navigation.
New! Hyper versions of all 21 stages—not for the faint of heart!

Mighty Switch Force! 2

About

Combat the Planetary Inferno in the shape-shifting, dimension melding world of Mighty Switch Force! 2.

It's a Code Red from the Galactic Fire Brigade! Planet Land is combusting and everything is ablaze! Return to HQ immediately and pick up your Infinity Dousing Apparatus; your Siren Helmet is still authorized and up to code! The mission: to fight the inferno and extricate the reformed Hooligan sisters! Now, suit up and start soaking some scenery!

Key Features

The sequel to the universally acclaimed Mighty Switch Force!, and the newest game in the Mighty series!
Grab your new weapon, a super-powered fire hose, and embark on a treacherous search-and-rescue mission!
Familiar friends and foes return, along with exciting new ones!
Puzzles and brain-bending action return!

Mighty Switch Force! Hose It Down

About

WayForward's award-winning Mighty Switch Force! series, transformed into a pick-up-and-play puzzler!

Team up with Officer Patricia Wagon to save Tangent City from a fiery blaze! As a member of Planet Land's Fire Brigade, your job is to douse the fire in each building—and to evacuate any Hooligan Sisters who may be trapped inside. It's a dangerous job, but if anyone can save the city, you and Patty can!

Slide blocks around the playfield, and let loose a powerful water spray from Officer Wagon's Infinity Dousing Apparatus (err… hose). Douse all of the flames, and the stage is clear! Sounds easy, right?

Block types vary from simple slide-puzzle obstacles to full-blown brain-busters like Turnpike Blocks, Mud Blocks, and Cloak Blocks.
Each level has been lovingly crafted and is WayForward Certified, guaranteed to challenge, befuddle, and tickle your fancy.

Key Features

50 puzzles spread across 10 Worlds.
Fully-illustrated cutscenes.
Speed Run challenges.
An incredible soundtrack by Jake "Virt" Kaufman.

Mighty Switch Force! Academy

About

Its training day for new recruits at Planet Land Police Academy, and no one is more eager to earn their badge than Patricia Wagon. But when her training module goes haywire, Patty finds herself at the mercy of holographic endurance courses-gone-wrong! These deviously designed drills were meant to push any cadet's skills to the max. But with the safety protocols disabled, Cadet Wagon will need to rely on her pellet gun and wits just to survive the day! The only means of escape is to pass the tests by apprehending simulations of public enemy no. 1, the Hooligan Sisters. Will Patty survive her trials and prove that this is the job she was made for?

As Academy Cadet Patricia Wagon, grab your pellet gun and take on brain-twisting puzzles so massive they span the entire screen! 20 all new puzzles and some twisted classics stages, all with a hectic cooperative couch-play option for up to 4 players to keep you and your fellow trainees in stitches!

Key Features

Take on 20 all-new deviously designed stages!
Play alone, or with friends in one-to-four player co-op couch play.
Bonus courses: Five Classic Stages for up to four players.
Four-player versus: Duke it out in competitive arenas!
Leave a Reply