Moncage out on Switch this month, new trailer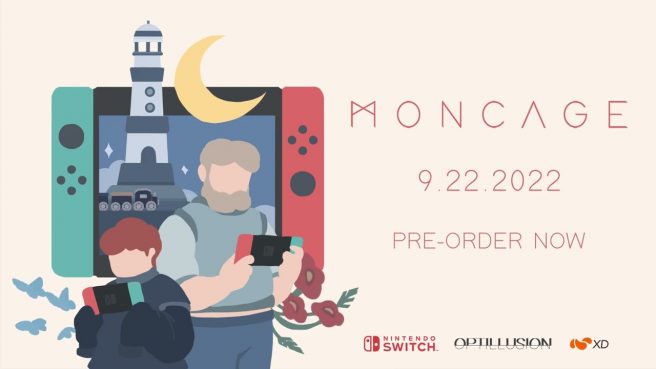 Moncage was announced for Switch back in 2020, and while we haven't heard much about the game since then, it's actually just a few days away with X.D. Network and Optillusion setting a final release date today. The puzzle adventure game is lined up for a September 22, 2022 launch.
Here's an overview of the game with more information:
Developed by indie studio Optillusion and published by XD Inc., Moncage is a mysterious cube that connects parallel worlds through mind-boggling optical illusions. Each surface of the cube houses a dynamic diorama with intricate connections to the others; the player must carefully manipulate the cube to reveal the hidden correspondences between objects across disparate panels. Whether that's illuminating a lamppost by aligning it with the moon, or tipping a scale on one side to cycle through day and night on another – each scene is filled with evocative puzzles that connect to its surroundings from unique perspectives and in mesmerizing ways.

From peeking into an abandoned factory, to a secluded island, to an empty nursing home, the player is veered into thinking outside the cube while searching for clues from within. Set over the course of more than 60 interactive puzzles across 50 scenes, the secrets of Moncage begin to unravel as fragmented pieces fall into – or out of – unexpected places. Also nested in obscure corners of the scenes are a collection of photos that, upon recovery, reveal an ambiguous story about a young boy and his father.

Key Features

Mind-Boggling Optical Illusions: Rotate the cube to see different perspectives and leverage illusions to discover hidden connections and interactions. Piece the puzzles together and experience miraculous visual effects.
Thoughtful Guidance System: At any point, the player can choose from several forms of hints to avoid getting stuck. Focus highlights the key items, whereas hint texts may provide additional clarity to the thought process. If all else fails, video walkthroughs can be unlocked as the ultimate safety plan.
Textless Storytelling: Behind the puzzles, there lies an intricate narrative with an unexpected twist. Collect the photos from obscure corners and perspectives to reveal the underlying story, one photo at a time.
Medal Rewards: There are a total of 15 achievements in Moncage, with each achievement unlocking a unique Medal designed to reflect a meaningful moment of the game.
Have a look at a trailer promoting the release date news for Moncage on Switch below.
Moncage is now up for pre-order on the Switch eShop at a price of $13.49.
Source: X.D. Network PR
Leave a Reply