MotoGP 20 details new Managerial Career mode, trailer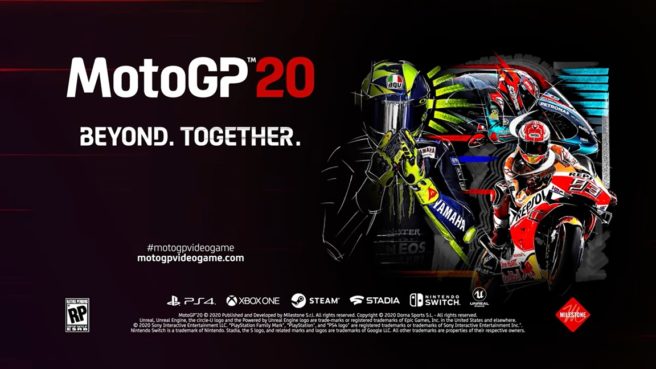 Milestone has issued a bunch of new details for its racer MotoGP 20. Today, we have information regarding the game's new Managerial Career.
Here's the full rundown, which includes a traileR:
The new Career Mode will put players into a pro riders' boots, with an engaging and progressive gaming experience both on and off the track. Just like in the real MotoGP simply being fast on the circuit is not enough; players will need to take the best decisions to find a winning strategy to master the Championship.

Echoing real life, one of the key figures at the top of the team is the personal manager, whose work can truly make a difference when it comes to sponsorship and contract opportunities. Players will need to evaluate all the offers they receive, both from real-life teams and new teams created by the player, looking carefully at their engagement and expectations before taking a decision. If players select a new team, they will be able to make their rider and bike stand out using different graphic editors to modify the helmet, racing number, lower-back patch, stickers and bike livery. The personal manager's skills come into play when tasked to try and craft a stronger team, or negotiate a better salary, following the player's indications.

When it comes to being fast on track, it is the players' choice of technical staff that influences the performance of the bike; the most skilled technicians will be able to develop bikes better and faster, but of course they will be much more expensive than others. How do you find the right balance between budget and performance? It's up to players! On-track tests during the weekend will provide valuable data for development, but the synergy between the engineers will determine how much of this knowledge can be actually used to craft new parts. Each engineer will have different skills in different areas so teamwork will be key.

Taking part in the winter and mid-season tests enables players to develop their bike, choosing up to 3 different packs with various engines and frame combinations to find the perfect settings for the season. Once the season starts, players can also improve performances of different bike parts, earning and spending development points and allocating their R&D staff to reach the highest level. Aerodynamics, electronics, engine power and fuel consumption are just an example of the many technical parts that players can now manage to improve their bikes.
Milestone says it is planning additional features that will support the game after launch, which will further expand contents of the Managerial Career gameplay. More information will follow in the future.
Source: Milestone PR
Leave a Reply