NBA 2K Playgrounds 2 dev on how 2K helped improved the game, future of the series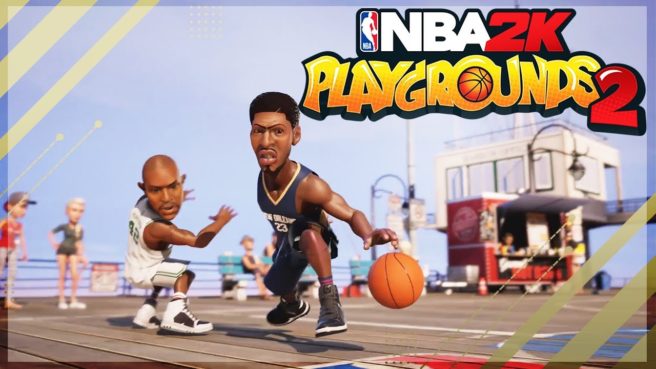 Saber Interactive essentially released NBA Playgrounds itself last year. But this year, the company teamed up with 2K for NBA 2K Playgrounds 2. It's more than just a slight rebrand and publishing deal, as 2K actually provided assistance to improve the game.
After noticing that NBA Playgrounds sold one million copies, 2K wanted to get involved. Saber CEO Matthew Karch told Polygon that Saber already "had a solid game", but 2K gave "very substantial" contributions to the project. Karch estimates that "20 percent of the improvements to the game have taken place over the last four to five months of development with those guys."
One specific area in which 2K was helpful came to the actual players. Legendary athletes such as Kobe Bryant, Michael Jordan and Kareem Abdul-Jabbar are in, all of whom Karch said they are "players that we [on our own] would never have been able to get."
It's not just about getting athletes, but improving but players move in the game. 2K Sports already had extensive experience working with NBA 2K, and was able to add signature animations for certain players in Playgrounds 2. These include George "Iceman" Gervin's finger roll and Michael Jordan's dunk from the foul line.
NBA 2K Playgrounds 2 will also now have dedicated servers for online play and refined microtransactions. Microtransactions are mainly cosmetic items along the lines of "character customization stuff." Players can choose to unlock the entire roster if they aren't interested in the progression system – it's returning having seen 150,000 sales in the first game. However, Saber also is reducing duplicate cards this time around.
Based on what Karch told Polygon, the partnership between Saber and 2K will continue in the future. Though Saber remains the owner of the IP, Karch said that the publishing deal is beneficial for 2K since it "complements what they're doing" with NBA 2K. He added that "2K is not interested in one-offs" and the company can see "long-term potential for this game." 2K is also "fully invested" in the title.
Leave a Reply