Needy Streamer Overload coming to Switch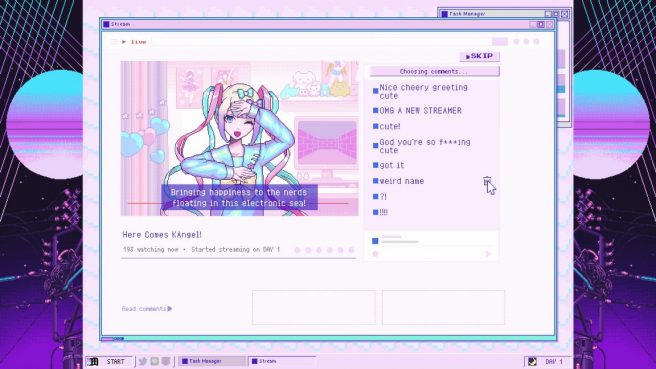 Following a successful debut on PC, WSS Playground has announced that it's bringing Needy Streamer Overload to Switch. The streamer simulation psychological horror game is on track to hit Nintendo's console on October 27, 2022.
The title stars "OMGkawaiiAngel", who's described as "a young girl with a rather extreme need for approval attempting to become the #1 'Internet Angel' (streamer)." Players are tasked with building up her follows while she streams, using various "stress relievers" as well as "generally being kinda messed up."
Here's some information about the different characters in Needy Streamer Overload:
Ame – While she may look somewhat low-key and quiet, she's actually a ridiculously selfish and vapid girl with a tendency to get carried away and a desperate need for approval. She's, well… kind of troublesome personality. Likes: Her S.O./producer, "P-chan"; psychotropics.

OMGkawaiiAngel – An "internet angel". Ame's alter ego, used while streaming. Pretends to be really nice and sweet. Constantly flirts with nerd types.

P-chan: Gender, age, and all details are unknown. Or maybe it's you?
The easiest way to describe Needy Streamer Overload is that's it an adventure visual novel. However, there are gameplay aspects such as providing daily commentary and guidance to help foster her OMGkawaiiAngel become a top streamer, take Ame on dates, and receive and reply to messages with stickers. Multiple endings are also included.
A trailer for the game can be found below.
Needy Streamer Overload will be sold digitally on Switch as an eShop download when it arrives later this year.
Leave a Reply