Neurodeck hitting Switch this week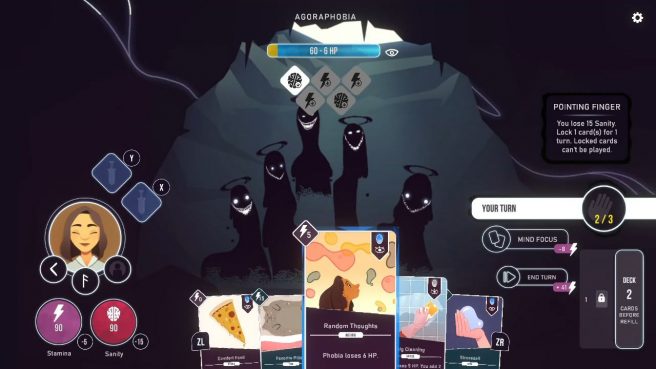 The psychological deckbuilding card game Neurodeck has a new release date on Switch from publisher Forever Entertainment and developer Tavrox Games announced today. It will launch on November 18, the two sides announced today.
Neurodeck was actually first planned to launch on Switch this past March. That ultimately didn't happen though, and Forever Entertainment is now handling distribution as opposed to Goblinz Publishing.
If you need a refresher on Neurodeck, check out the following overview:
A wild mix of deck builder and roguelite, Neurodeck is an atmospheric card game about battling inner fears manifesting as eerie monsters, supported by delicate and evocative hand-drawn illustrations.

In Neurodeck, players will need to build, craft and master an arsenal of mental battling cards to fight real-life phobias, and discover different playable characters with their own storyline, fears and traits to unlock.

Easy to understand for neophytes and with enough depth for seasoned deck builders fans, Neurodeck offers replayability and encourages players to be curious and try different approaches, rewarding them with new outcomes to their actions.

Features:

– Fight your inner fears: Combat the many forms of phobias, from Masculinity, a hulking shadow that glowers with rage to the scornful crowd that is Agoraphobia.

– Weaponize your mind: Build up an arsenal of mental battling cards. Unlock unique traits from activities and surveys. Unleash fearsome combinations and put your demons to rest for good.

– Roguelite deck builder: Defeat is a starting point to get stronger, letting you begin anew with access to a greater range of cards – and strategies.

– Replayability and diversity: Discover a huge range of cards covering all types of psychological coping mechanisms, from spooning to arguments – altering every new game's strategy.

– A meta-exploration of mental health: The eerie original soundtrack, evocative hand-drawn visuals, and deeply personal narrative create a striking atmosphere making for a deep meta-exploration of mental health.
We've included a trailer for Neurodeck going along with the release date news below.
Source: Forever Entertainment PR
Leave a Reply