NeverAwake release date set for January 2023, new trailer, physical release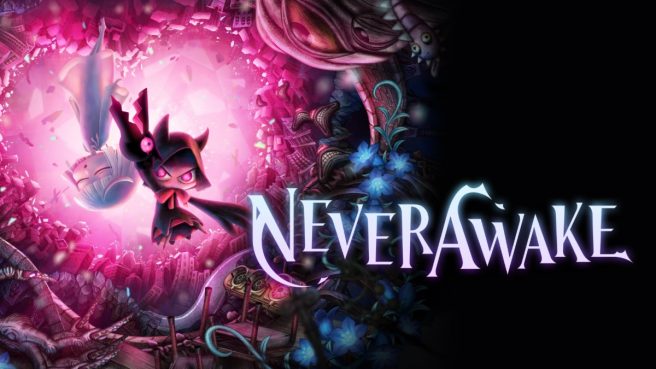 NeverAwake, a nightmarish twin-stick shoot 'em up, now has a release date and news about a physical release. Publisher Phoenixx and Neotro Inc. announced at the Tokyo Game Show today that the game will be out on January 19, 2023.
Here's some information about the title:
Explore the nightmares of Rem, a little girl shackled in her nightmares by her fear of vegetables, dentists, and her classmates. She summons up the internal strength to fight against her tormentors, wielding a demonic, dragon-shaped gun that can vanquish these twisted abominations. Square off against giant, grotesque bosses, all hand-animated with incredible detail.

Fight against waves of imaginary monsters in more than 80 looping, side-scrolling levels, dodging, aiming, and shooting in 360-degree combat to defeat enemies, and collect the souls of defeated monsters to complete each level. Failing to collect 100 percent souls on the first loop leads to more dangerous levels on the next loop. Spend collected souls on upgrades and a temporary powerup to make the stage easier if things get too nightmarish.
"I wanted to make a shooter that would not only be accessible to those who already enjoy fast-paced shooters, but those who are less skilled and just want to enjoy the art and atmosphere," said Neotro Inc. founder Hiroshi Sawatari. "But make no mistake, those who want a challenge from NeverAwake can find plenty of features like branching paths and high score leaderboards to get the most out of the game."
Check out a new trailer for NeverAwake below.
The game will cost $19.99 on the Switch eShop. Limited Run Games and Happinet will offer a physical version of NeverAwake at a later date. Phoenixx will sell boxed versions in Japan – including a collector's edition. We're waiting to see if English will be supported in the Japanese release (presumably it will), though pre-orders are already open on Play-Asia here.
Source: Phoenixx PR
Leave a Reply