New Atelier game Nelke and the Legendary Alchemists announced for Switch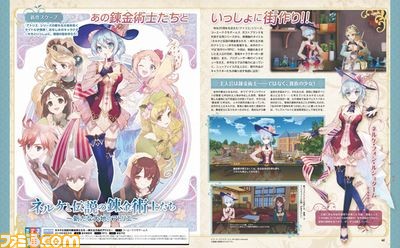 The next entry in the "Atelier" series of games has been announced via Famitsu, and it'll be released on Nintendo Switch. Titled Nelke and the Legendary Alchemists, the game is a town-building RPG featuring many characters from previous Atelier games (thanks to Siliconera for the translation).
The game's main character is Nelke von Luchetam. Coming from a family of nobles, she actually has no talent for alchemy herself. She has been charged with developing the frontier town of Vestabalt by her father. She's also searching for the mysterious "Sage's Remains".
As you build the town, characters from previous Atelier games will visit you. You can consult them and ask them for advice. Confirmed to appear are Marie, Meruru, Ayesha, Sophie, Veola, Klein and Vayne. Famitsu also shows silhouettes of other characters; they appear to be Elie, Lillie, Judie, Rorona, Escha and Logy.
NOCO, who designed the characters for the previous couple of Atelier games, is returning in this role. Despite being billed as a town-building RPG, this game will still have battle, gathering and synthesis elements. Still, building the town is the main focus of this game, and you will have a great amount of freedom in doing so. For example, you can choose to build an atelier and if you let Marie handle it, it will become Marie's atelier.
Nelke and the Legendary Alchemists is a spin-off game, but developer Gust hopes that it become a long-running series. Nonetheless, they're also thinking about the mainline "Atelier" games and where to take the series next.
Leave a Reply