New details about the Switch app FUZE, slated for Q2 2018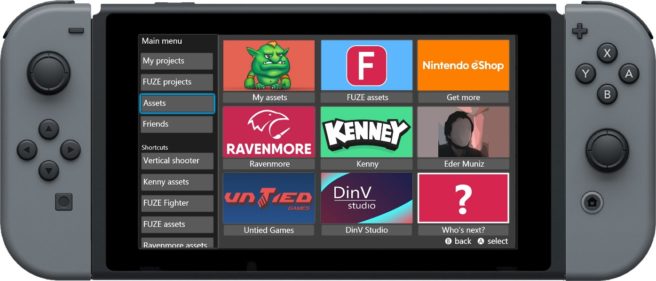 Last year, we heard about an interesting app of sorts called FUZE Code Studio. FUZE Technologies is working on the project for Switch that is intended to be "an educational platform specifically designed to make learning to code as easy and accessible as possible." The goal here is to teach users to "learn, code and play their own games."
Now with the new name FUZE (or FUZE for Nintendo Switch), a release window of Q2 2018 has been announced. The tool will be sold "at less than £30".
FUZE will be packed with "tens of thousands of game graphics, audio samples and 3D models" across various genres. More packs will be sold via the eShop as well. Thus far, Pixel Art heroes Kenney, Eder Muniz, Ravenmore, DinV Studio, and Untied Games have all agreed to have their assets in FUZE.
Another element of FUZE will allow users to "share with their Nintendo network friends as well as comment and rate their work." The developer also says that schools will be able to make their own hubs and share with other schools.
Below are some additional tidbits:
– Easy to learn text based programming language
– ​No coding experience required
– ​Create your own apps and fast 2D – 3D games
– ​Access Joycon sensors and controls directly in your programs
– ​Use the Dock to show your games on your TV to share with friends and family
– ​Programmable synthesizer & Speech engine
– ​Use the included game graphics & audio or create your own
– ​​Extra content packs will be available to download
– Use a USB keyboard, the FUZE touch keyboard or the Joycons to enter your code
– ​Comes with game graphics and audio and you can create your own
– ​Learn to code
Leave a Reply