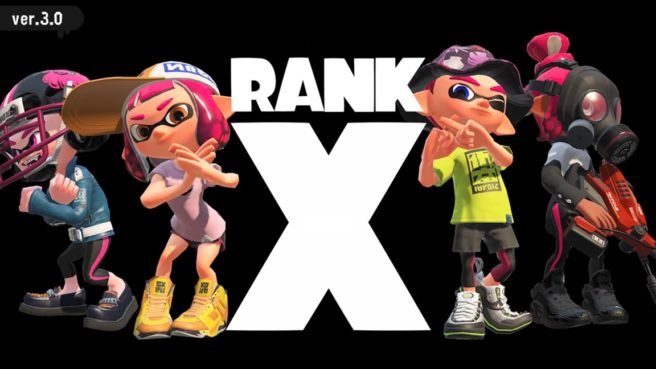 Several notable announcements were made for Splatoon 2 during last week's Nintendo Direct. One of these was Rank X, an extreme rank even higher than S+.
Over on the official Japanese website today, Nintendo provided new information about Rank X. Get the full rundown below, courtesy of frozenpandaman.
New in Ver.3.0.0… RANK X

A new rank that exceeds Rank S+… it's called "Rank X"!

What's Rank X?

Starting in Ver.3.0.0, a new rank "Rank X" will be introduced. As a result, players from S+10 to S+50 will be automatically promoted.

Rank X-exclusive "X Power"

Unlike normal ranks, Rank X does not feature the rank bar which can increase or decrease. Instead, battles will be performed with an exclusive "X Power." Matchmaking will involve players of similar power; winning battles will increase your power and losing will decrease it.

Monthly top ranking tables

Each month on the SplatNet 2 app, the top 500 players with the highest powers from each of the four modes will be displayed. Moreover, out of the players who use specific weapons frequently, the top player with the highest power will be announced.

---

An introduction to Rank X –from Squid Research Lab–

About Rank X

Rank X is a challenging rank for a collection of extreme players. Players ranked S+10 and up, or so they were classified until now, will be certified with a new rank.

For reference, we will post the current rank breakdown as of March 4, 2018:

| Rank before change | Percentage |
| --- | --- |
| S+10 to S+50 | 1.0% |
| S+0 to S+9 | 6.6% |
| S | 5.4% |
| A- to A+ | 21.4% |
| B- to B+ | 33.6% |
| C- to C+ | 32.0% |

* Calculated for those players who played at least one Ranked Battle (solo ranked) in the past week.

* Each percentage is rounded to two decimal places.

At the time Ver.3.0.0 releases, in the case a player has already reached S+10, they will be promoted to Rank X.

After Ver.3.0.0's release, in the case a player ranks up from Rank S+9, they will be promoted to Rank X.

About X Power and ranking

Players who have been promoted to Rank X will play battles with X Power instead of the usual rank meter. For players in the same rank, those with the powers closest to each other will be put in battles together whenever possible.

Once a month, the top 500 players for each of the four modes will be published on SplatNet 2. Plus, out of the players who used specific weapons frequently, the player with the top X Power will be presented. Thus, this is a chance to know players who often play the same weapon as you.

Along with the monthly announcement of rankings, X Power will be reset to the state of "measuring." At the time of the reset, if your X Power is below the required level, you will be demoted to S+9. Also, if your power becomes significantly lower than the required level, you will be instantly demoted without waiting for the reset.

X Power reset-related changes

Accompanying the monthly X Power reset, the following changes are scheduled:

Altering the timing of weapon/stage/etc. additions

Up until now, generally, we have added 1 weapon a week. In the future, we plan to add several at the start of the month.

Restrictions on Ranked Battle stages appearances

Currently in Ranked Battles there are more than 20 stages and 4 modes that can appear. On one hand, this creates a rich variety of stage and mode combinations, but on the other hand it causes the gap in between appearances of specific stage/mode combinations to be very long, possibly making it difficult to get practice on that combination and for players to have intense battles.
From Ver.3.0.0 on, the stages that appear in each ranked mode will be restricted to a pool of about 8 stages, and the stage selection will change monthly at the same time when X Power resets. Stage selection for Regular (Turf War) and League matches will remain unchanged from the current state.

Application of changes

These changes will be applied with Ver.3.0.0, scheduled for delivery in late April 2018. The first X Power reset is scheduled for 9 a.m. JST, June 1, 2018 (= 5 p.m. PDT, May 31). After that, in general, it will occur at 9 a.m. JST on the 1st of every month (= 5 p.m. PDT on the last day of every month for NA).

In closing

This time, rather than just raising the maximum rank for enjoyment, we opened up Rank X to strengthen the foundation for all Ranked players so that they may enjoy playing seriously. This is a change to Ranked Battles only, but many other components – such as Turf War, Splatfest, and Salmon Run – help form "Splatoon 2." We will continue to update Splatoon 2, so as it continues to evolve, we thank you for your continued support.
Thanks to m_t for the tip.
Leave a Reply