New Ninjala details from datamine – Sonic collaboration items, story mode, Jala currency, more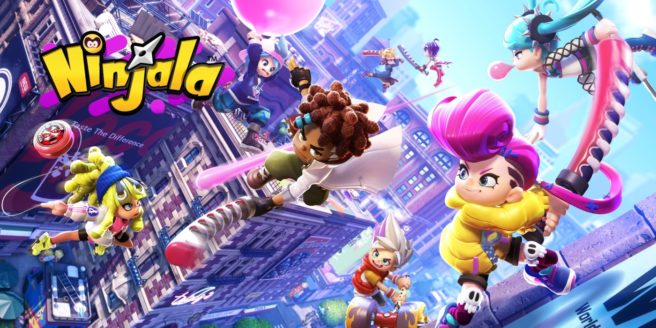 Ninjala kicked off its open beta yesterday, giving Switch owners a chance to try out the game before launch. Dataminers have since gone to work and uncovered new information about the game. Twitter users OatmealDome and LeanYoshi have provided information regarding some collaboration items (including Sonic), story mode, microtransactions with Jala currency, and more.
Here's the full roundup:
Datamine details
– A few references to the Sonic series within cosmetic item descriptions
– Ex: "A sticker of the mad scientist Dr. Robotnik striking a victory pose. Let the whole world know your ambitions."
– There is a solo story mode where you "Fend off the attacks of the invading space ninja!"
– Play as Van, who has a mentor called Master Gramps
– Each "volume" is purchased from the eShop
– Each one appears to be four episodes long
– In-game currency purchasable via microtransactions called "Jala" and a "Ninjala Pass"
– There is a Gumball Machine (basically gacha) that gives you "special items"
– "Jala is valid for 150 days from the day of purchase"
– "Purchase Jala, exchange Jala for items, or purchase a Ninjala Pass"
– "Before buying Jala, be sure to get permission from your parents or buy it together!"
– Jala expiration after 150 days appears to be Japan only
– Gumball Machine: "10 items will be drawn, but special items will be included in the lineup of the 1st drawing only. You can only obtain one special item. Once you've obtained a special item, no special items will appear in subsequent drawings."
– Get a sticker for reaching level 200
– Ninjala seems to have a spectator mode, a PB mode with passwords, and a friend only mode
Cosmetics outside of Ninjala
Puzzles & Dragons
– P&D Hat
– Sonia Hat
– Valkyrie Hat
– Dragon Hat
Sonic
– Sonic Mask
– Tails Mask
– Knuckles Mask
Tokyo 2020 Olympics
– MIRAITOWA
Ninjala will be released as a free-to-play title via the eShop on May 27.
Leave a Reply