Nielsen: Most anticipated holiday 2017 games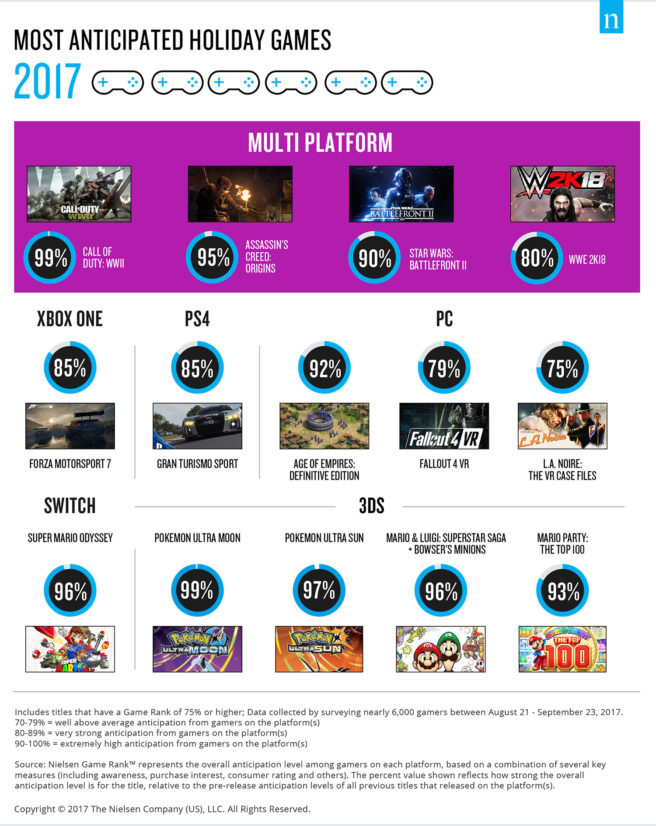 Similar to last year, Nielsen has shared some data about the most anticipated games due out this holiday.
In terms of Nintendo titles, the big N has a few heavy hitters on its hands. Pokemon Ultra Sun and Pokemon Ultra Moon appear to be receiving the most attention. However, we can't forget about Super Mario Odyssey and Mario & Luigi: Superstar Saga + Bowser's Minions. Mario Party: The Top 100 also looks to be drawing some interest.
Here's the full analysis from Nielsen about Nintendo:
Nintendo had leveraged The Legend of Zelda to help launch its new Switch platform earlier this year, but the company is counting on Super Mario to haul in the holiday shoppers for the Switch's first fall/winter season. Super Mario Odyssey (96%) looks to be up to the task, as anticipation levels among Switch gamers is on par with the high bar previously set by The Legend of Zelda: Breath of the Wild and Mario Kart 8 Deluxe.

Mario makes appearances in a couple of highly anticipated releases this holiday season on Nintendo's 3DS as well. One is an encore compilation of fan-favorite mini games from the various Mario Party releases, aptly named Mario Party: The Top 100 (93%). The Italian plumber also joins up with his brother for a remake of Mario & Luigi: Superstar Saga + Bowser's Minions (96%), which allows players to experience the game from the perspective of various enemy characters.

The one franchise that has challenged Mario as the most anticipated among 3DS fans in recent years is the series that has convinced gamers that they "gotta catch 'em all." Pokemon returns to 3DS this holiday with Pokemon Ultra Sun (97%) and Pokemon Ultra Moon (99%), and the duo-releases are as eagerly awaited as ever.
Leave a Reply