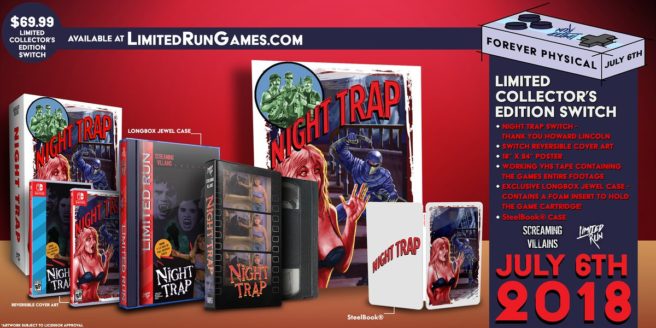 Limited Run Games has announced that Night Trap pre-orders are going live this week. A standard version and collector's edition can be reserved starting on Friday.
The standard release will go for $29.99 and will have open pre-orders. Only 3,000 copies of the $69.99 collector's edition will be produced, which includes the following:
– Switch Limited Run #8: Night Trap sealed in a standard Switch case with reversible cover art and full color manual
– Full-color manual
– An official Night Trap Nintendo Switch SteelBook Case
– A long-box SEGA CD jewel case (with appropriately sized manual) fitted with a foam insert to store a Switch cartridge inside.
– An 18 x 24 inch poster
– A 48-minute film version of Night Trap on VHS tape packaged in a black plastic library case
– Individually numbered box
Night Trap on Switch will support English or French text and English, Japanese, or French audio.
Leave a Reply