Nights of Azure 2 details and screenshots – Malvasia's second form, battle styles, locations, more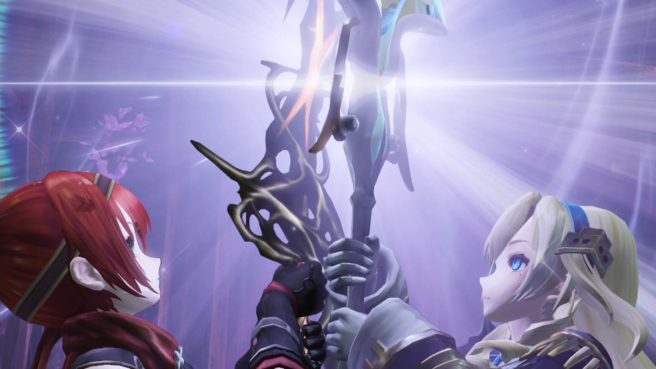 Gust issued a new media blast for Nights of Azure 2 today. The latest details and screenshots cover the demon Malvasia's second form, battle styles, locations, and more. Everything is below, courtesy of Gematsu.
Malvasia, 2nd Form (voiced by Yui Shimamura)
– Malavasia's 2nd Form wears a ring reminiscent of an angel's halo
– Her body is clad in pure white wings
– During battle, she takes aim at Aluche with four weapons held in the four robust, floating arms that surround her
– Malvasia will try to corner Aluche using various methods
Battle Styles
– Combining Lilies and Servans, equippable items, and Aluche's method of fighting make for an infinite variety of battle styles
– Discover a method of fighting that matches your own play style, change up how you fight for each stage and boss, and find a battle style all your own
Always on the front lines! Aluche's Assault Style
– An offensive style in which Aluche aggressively battles using "Striker" weapons
– With great swords, lances, pile bunkers, and so on, Aluche can mow down enemies with an attack range and level of damage that surpasses her blood sword
– Depending on the skills you have acquired and items you equip that strengthen your SATK, the Striker's firepower may further increase
– Aluche's attack power increases with the transformed "Striker"
– Since there is an abundant variety of weapon types, you can take on fiends with your favorite Servan weapon
Fight hand in hand! Aluche's Lily Cooperation Style
– A style that mainly consists of cooperative Lily skills, Double Chases, and Lily Bursts
– Not only can your Lily level up, their equippable items and abilities can also increase, so the max value of their overall firepower is high
– Ruenheid can deal damage to numerous enemies in a single blow with her wide-range attacks
– Veruschka can easily cooperate with Aluche using her close-range attacks, taking no breaks in striking enemies
Blood sword only! Advantage from Disadvantage Style
– A style in which players only use Aluche's blood sword to cut through to the path ahead
– When your HP is low, your attack power increases, you can freely use abilities and items that have effects, and can unleash tremendous firepower that goes beyond the normal limit
– Since it is a fighting state in which your HP is always low, you will need the ability to predict and guard against the enemy's attacks to use this style
– Eleanor can make chocolate that will restore Aluche's physical strength, and supports her in the area of slowing down enemies
– With Muveil, who has the skill of stopping enemies in their tracks and an attraction ability, you can fight while dividing up the enemy load
– Arnice is powerful in both Double Chases and Lily Bursts
– Arnice is a good fit for the "Cooperative Style" as she can handle attacks, enemy obstruction, and recovery all on her own
Locations
– Aluche and company will make their way through the world of Nights of Azure 2
– They will find places with traces that people lived there, as well as several natural landforms
– Most places are dominated by fiends, and give off the feeling of a ruined atmosphere, such as a collapsed wall or thick forest
Yuralm, the Abolished Capital
– The abandoned capital city
– Approximately four years prior to the beginning of the game, along with a sudden increase in fiends surrounding the city, the city underwent a transition and the people migrated to a new capital
– This is Aluche, Liliana, and Ruenheid's hometown
Holy Forest
– A gloomy forest full of trees
– The small lights of fireflies sometimes hang in the air
– There are flower beds quietly blooming in some places
– Although buildings that appear to be those of small town can be seen, the increase in fiends have left not even the shadow of a person
– There is a river in the forest, as well as various fiends such as bees and wolfs
Hidden Mine
– The Hidden Mine is located in the mountains near Yuralm
– There is equipment in place that was used to excavate ores and transport them to Yuralm, but the mine has since fallen silent
– The fiends seem to increase in number the further inside you go
Espheria Royal Academy
– The academy once attended by Aluche, Liliana, and Ruenheid
– After the city's transition, the school was closed as it was not expected to receive new students
– It is divided into west and east buildings, and there is also a large library and chapel in the school
– A beautiful place called "Starfall Hill" is located nearby
Frozen Moon Palace
– A towering palace that stands upon frozen land
– Dark, purple clouds hang in the sky above the palace, and a rotting ship is docked in the waters beside it
– It gives off an unseemly atmosphere for this world
Hotel Eterna
– A hotel in Yuralm, the Abolished Capital
– Camilla, the manager, is in charge
– Kaede, a Servan, assists in her duties
– It has facilities such as a pool and church, and a high-class feeling about it
– In the lobby, you can sip on the chocolate drinks of the chocolatier who works there
Striker Weapons
– By transforming their bodies into weapons, Striker-type Servans can lend their power to Aluche
– Weapon types and attack methods are different for each Servan
– Each one's abilities will prove to be reliable support for Aluche
Eir, the Phoenix Servan
– Eir usually fights by aiming at enemies from the sky
– When transformed into a Great Sword, it has even greater power
– With its fire attribute you can expect great firepower
Pitz, the Bee Servan
– When Pitz transforms into a Partisan, it has a wide range of attack, allowing for evasive and long-distance attacks
– In a regular battle, it will beat up on enemies with its speedy movement
Grantz, the Crystal Golem Servan
– Crystal Sword: while it lacks speed, it has high attack firepower and can inflict the enemy with the freeze status ailment.
Alice, the Doll Servan
– Alice can transform into a Mirror Shield that can defend against any attack
– By charging, the Mirror Shield can fire a beam
Dump, the Machine Golem Servan
– Pile Bunker has the highest single firepower, but the lowest attack and movement speed
– However, with its ability to inflict the paralysis status ailment and super armor that is difficult to push back, you should not worry about an enemy counterattack
Duul, the Lizardman Servan
– Duul transforms into a heavyweight lance
– With its high single firepower and attack speed, it is number one in damage dealt per second
– Its attack scope and range, on the other hand, are not that great
Vor
– A Tricker-type Servan whose body is half-fossilized
– In battle, it supports Aluche with speedy movement and high attack power
– Since it is the fossilization of an ancient creature, it is worried about the generation gap it has with others
Grantz
– A Striker-type servan and golem whose body is made of crystal
– It is confident in its own beauty and worried about scarring its body
– When it transforms and becomes the Crystal Sword, it also shines beautifully
Leave a Reply