Nine Witches: Family Disruption out on Switch in December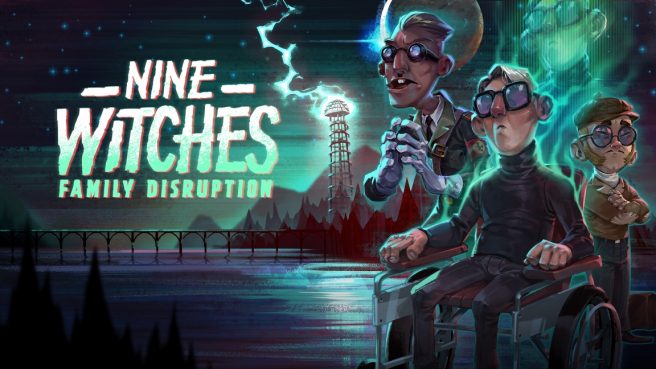 Blowfish Studios and Indiesruption have dated Nine Witches: Family Disruption, the comedic alternate-history occult adventure game. A digital release is set for December 4, the two sides confirmed today.
We have the following overview and trailer for Nine Witches: Family Disruption:
As World War II nears its climax, air raids and artillery shells are the least of Sundäe's concerns. The remote Norwegian village, home to the delicious three-testicled salmon, has caught the interest of the Third Reich's Okkulte-55 Division, who are keen to exploit this supernatural hotspot and turn the tide of battle in Germany's favor. Enter two unlikely heroes: Professor Alexei Krakovitz, a Russian paranormal scholar, and his trusty assistant, Akiro Kagasawa, who must save the day before the Nazis literally raise Hell.

Explore the Scandinavian hamlet and surrounding region, swapping between Krakovitz and Kagasawa to search for intel about the Okkulte-55 Division's schemes. Interact with more than 50 characters, each more colorful than the last, while uncovering clues to help stop the Third Reich's dark designs. Traverse the astral plane as Professor Krakovitz, communing with long-departed spirits to learn more about the strange and otherworldly history of Sundäe, or harness Kagasawa's special combat training when faced with corporeal threats.

Savor the distinct, jocose culture of Sundäe and its residents on a winding journey punctuated by amusing quips, absurd comedy, and finely-crafted pixel art. Experience a narrative inspired by history and infused with paranormal realism that balances heart and humor in equal measure. Leave no stone unturned while uncovering the truth about the Okkulte-55 Division, what is happening in Sundäe, and the supernatural world that exists all around us.
Nine Witches: Family Disruption will cost $19.99 USD / €17.99 / £15.99 on the Switch eShop. English, Spanish, German, French, Brazilian Portuguese, Russian, and Simplified and Traditional Chinese language options will be supported.
Source: Blowfish Studios PR
Leave a Reply