Ninjala details upcoming plans, including Let It Die collaboration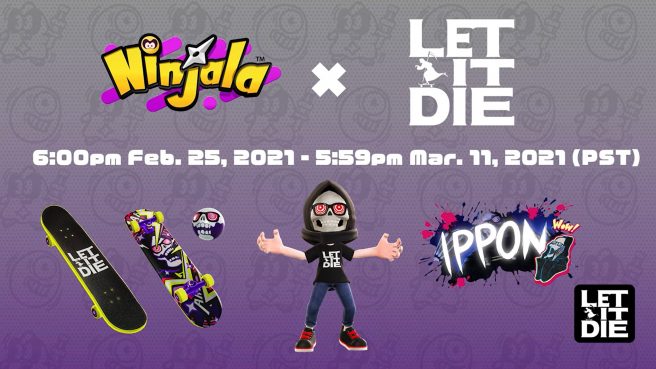 GungHo today introduced its latest plans for Ninjala leading into Seasons 5 and 6.
The big news concerns the game's latest collaborations: Kyary Pamyu Pamyu and Let It Die, which will be held at the end of January and February respectively. They're part of Season 4, which also has a Featured Battle and limited time event. Season 5 will include new weapons, an updated tutorial, two new collaborations, and an updated tutorial. Season 6 will celebrate Ninjala's first anniversary, and will have new weapons, a new stage, and a new collaboration.
Here's an overview of upcoming plans for Ninjala with a video from GungHo:
Season 4 has just gotten underway, so if you were hoping for news about this season's collaborations, we've got you covered. Kyary Pamyu Pamyu is coming back in a big way, and we've got a special GungHo collab skating your way soon, too!

But Season 4 collaboration updates aren't all that our hosts have to discuss. No, we've gone and put out a roadmap of what you can look forward to over the next few seasons, too!

Season 5 will introduce new weapons, new collabs, a new Featured Battle, and we're going to be adding in a more in-depth tutorial system, too. The good times keep rolling in Season 6, where we'll celebrate Ninjala's one-year anniversary with some special things, along with a new stage, new weapon, and a new collab.

Of course, we can't forget to mention the S-Blast Battle Test Play! Featured Battle will be added this month, but you'll have to watch to get all the details on what that means.
Leave a Reply