Ninjala hits over 8 million downloads worldwide, celebration gift distributed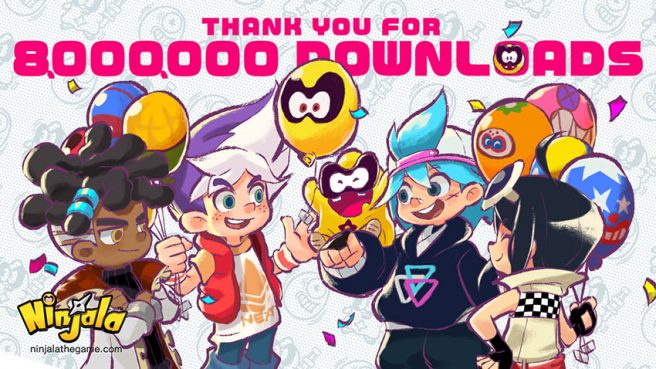 GungHo has announced that Ninjala has surpassed 8 million downloads worldwide. This is an impressive feat for a game that is exclusive to the Nintendo Switch and has only been out for a little more than a year (a year and 4 months to be exact).
To celebrate this milestone, GungHo is giving all Ninjala players a celebratory gift of 100 Jala. This will be eligible to all players and can be downloaded in game before December 1.
For more info on this milestone and the gift that will be distributed to players, check out this excerpt from GungHo's official statement below:
Thank you for playing Ninjala.

We are happy to announce that Ninjala has achieved 8 million downloads worldwide!
We wish to express our deepest gratitude to all our users for your support.
The following items have been distributed via in-game email as a commemorative gift celebrating 8 million downloads. Please be sure to claim them during the designated distribution period.

Eligible users:
All

Contents distributed:
– 100 Jala (Free)

Valid for:

Oct. 13, 2021, 20:00 (PDT) – Dec. 01, 2021, 17:59 (PST)
14 Oct. 2021, 04:00 (BST) – 02 Dec. 2021, 01:59 (GMT)
14 Oct. 2021, 13:00 (AEST) – 02 Dec. 2021, 11:59 (AEST)

We hope you continue to enjoy Ninjala!
You can get more details about Ninjala from the official game page on Nintendo's website here.
Leave a Reply