Ninjala – Ippon Matsuri event live, Season 2 starts at the end of August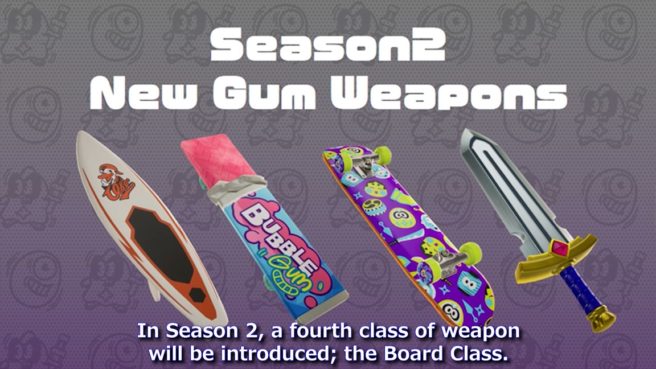 Starting today, Ninjala is featuring a new Ippon Matsuri event. Players will earn more rewards post-battle, and everyone will be given additional rewards based on the total number of IPPON achieved by all players. All users will receive 30 Gold Metals if ten million IPPON is generated.
A Twitter campaign has also started. 100 users who follow and retweet messages tagged with #IPPON_MATSURI from the @PlayNinjala and @Ninjala_JP accounts will be randomly selected to receive 1,000 Jala.
Finally, Ninjala Season 2 has been announced for August 26 (PDT). Here are all of the relevant details:
– Fourth class of weapons will be introduced; the Board Class
– Festival Board: skateboard weapon type
– Camu Camu Plate: shaped like a stick of gum
– Home Run Surfer: uses surfboard as a weapon
– Ninja Calibur: shaped as a sword
– These weapons have a new kind of Gum Ninjutsu
– New Shinobi City stage; hometown of the ninja with hot springs
– New Gum Ninjutsu abilities and Special moves
– New emotes
Find a video recapping all of today's news below.
Leave a Reply