Ninjala is teaming up with Hatsune Miku in new collaboration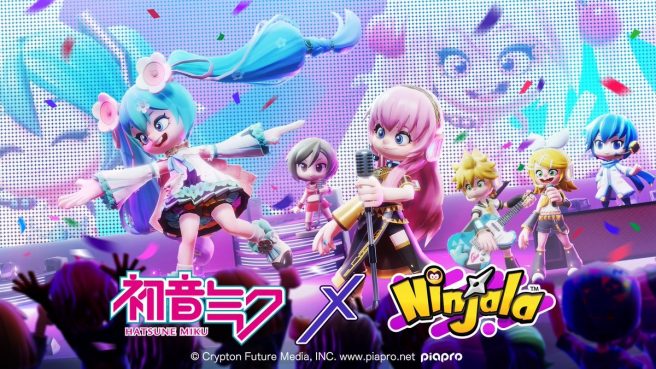 GungHo Online Entertainment today unveiled a new collaboration between Ninjala and Hatsune Miku. As part of the event, there'll be new Gum Utsusemi, BGMs, Emotes, and Outfits themed after the virtual singers Hatsune Miku, Megurine Luka, Kagamine Rin, and Len.
Hatsune Miku will have her normal outfit, "Magical Mirai 2021" costume, and Sakura Miku look. The other characters will have their own outfits as well. Players can obtain the "Magical Mirai 2021" outfit in the Collab Gacha. On top of that, it'll be possible to obtain Hatsune Miku-themed Ninja Gum for the Ippon Katana and the Crewing V from the Collab Gacha. All other outfits will be available through the Shinobi Shop.
Players can look forward to emotes inspired by classic Miku songs like "Mikumiku Ni Shiteageru" and "PoPiPo".
As for music, there'll be Vocaloid songs such as "Senbonzakura", "Roki", and "Just be Friends".
GungHo shared all of the news about the upcoming collaboration during its latest developer diary. You can watch it below for additional details.
The Ninjala x Hatsune Miku collaboration begins on October 6. It will last until November 7.
Ninjala is currently being distributed for Switch as a free to play title on the eShop. Collaborations have been a big part of the game, with Demon Slayer appearing previously.
Leave a Reply