Ninjala reveals Puzzle & Dragons collaboration, Season 4 details, physical cards, next anime episode info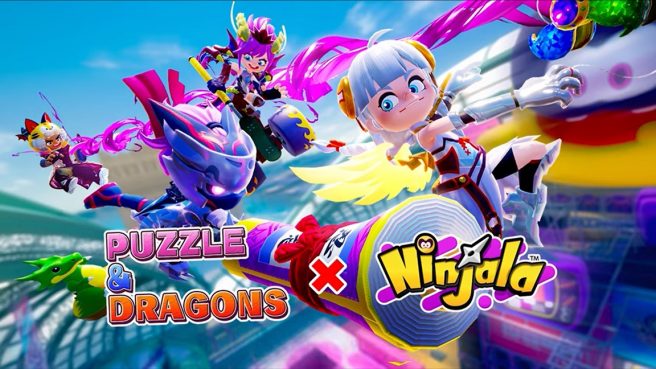 During a new developer diary today, GungHo shared the latest on Ninjala. The status update covers a new collaboration, Season 4 details, physical cards that work with the game, and the next anime episode.
Here are the main highlights:
Puzzle & Dragons collaboration
– Avatar items: Hattori Hanzo Style, Valkyrie Style, Red Dragon Caller Sonia Style
– Avatar items come with familiar BGM tracks from Puzzle & Dragons
– Toragon-themed mask and a REMdra Gum Utsusemi also available
– Can earn a Puzzle & Dragons Ippon decoration as a battle reward
– Collaboration will be held between December 7 and January 6
Season 4
– Will be held between January 6 and March 24
– New stage, new gum weapons, new shinobi cards, and system update
– New stage: Fort Riverdale, themed after London and set at nighttime
– Katana type gum weapons: Scrap Saber, Chewing V
– New specials and ninjutsu
– Shinobi Disco ninjutsu: creates a dance field where those who are in the field are forced to dance
– Froggy Block special: summons box-shaped wall either in front of you as a normal attack or near your targeted opponent as a wide attack
– Energy Hoarder shinobi card: increases amount of S-Energy recovered when collecting it on the map
– Quick Respawn shinobi card: allows you to respawn immediately where you were defeated with low health up to three times
– Speedier transistion from matching to start of battle, implementation of split favoriate registration, expanded communication menus (from 2 to 5), and allowing for spectators to host rooms in Spectator Mode
Ninjala Collection Card Vol. 1
– Available in January in the US, Japan, Spain, France, throughout Asia
– Links with the game
– Card will depict a character and a gum weapon
– Scan the code on the back in-game to play a mini-game in Ninjala
– Can earn in-game items from the mini-games including original ninja gum and costumes
Next anime episode
– Stars Emma
– Girl who loves dancing and dreams of becoming a star
– Runs into Warren, who works in public relations for the WNA
– This encounter leads to Emma appearing on a competitive dance TV show
You can watch today's full Ninjala developer diary below.
Leave a Reply