Nintendo discounts Super Mario Odyssey, Zelda: Breath of the Wild, and more in Europe for Cyber Deals 2018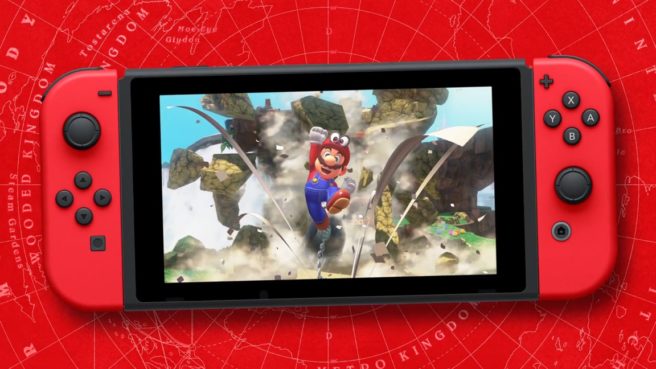 Nintendo kicked off a set of eShop Cyber Deals in North America yesterday. Meanwhile, in Europe, a similar sale has started with a few different games.
Switch owners can save up to 60% on titles like Super Mario Odyssey and Zelda: Breath of the Wild. Third-party and indie games like Enter the Gungeon and Wonder Boy are also included.
Here's the lineup:
Donkey Kong Country: Tropical Freeze – €39.99 (was €59.99)
Dragon Quest Builders – €29.99 (was €49.99)
Enter the Gungeon – €7.49 (was €14.99)
FIFA 19 – €40.19 (was €59.99)
Fire Emblem Warriors – €39.99 (was €59.99)
forma.8 – €3.99 (was €9.99)
GoNNER – €4.99 (was €9.99)
Hyper Light Drifter: Special Edition – €13.99 (was €19.99)
Hyrule Warriors: Definitive Edition – €39.99 (was €59.99)
Kamiko – €2.49 (was €4.99)
Minit – €6.69 (was €9.99)
Rocket League – €11.99 (was €19.99)
Snake Pass – €7.99 (was €19.99)
South Park: The Fractured but Whole – €35.99 (was €59.99)
South Park: The Stick of Truth – €23.99 (was €39.99)
Super Mario Odyssey – €39.99 (was €59.99)
The Elder Scrolls V: Skyrim – €39.99 (was €59.99)
The Jackbox Party Pack 5 – €18.19 (was €25.99)
Velocity 2X – €9.99 (was €19.99)
Voez – €14.99 (was €29.99)
Wonder Boy: The Dragon's Trap – €9.99 (was €19.99)
Xenoblade Chronicles 2 – €39.99 (was €59.99)
Zelda: Breath of the Wild – €48.99 (was €69.99)
Source: Switch eShop
Leave a Reply