Nintendo Download (10/5/17, North America) – Stardew Valley, Axiom Verge, Oxenfree, more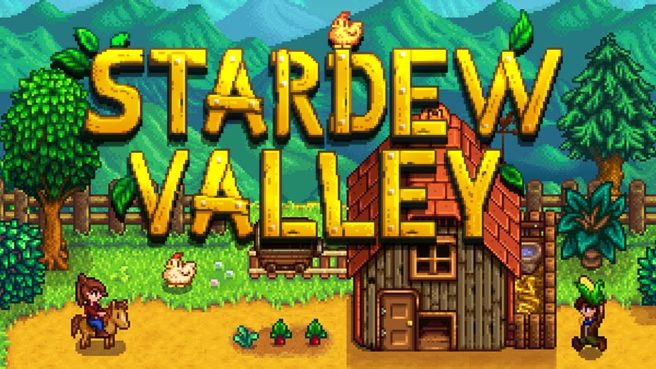 This week's North American Nintendo Downloads are as follows:
Switch Retail
Tiny Barbarian DX – $29.99 (available Tuesday)
Touhou Kobuto V: Burst Battle – $29.99 (available Tuesday)
Switch Download
ACA NeoGeo Metal Slug X – $7.99
Axiom Verge – $19.99
Earth Atlantis – $14.99
Ninja Shodown – $14.95
Oxenfree – $19.99
Stardew Valley – $14.99
Tumblestone – $14.99
Volgarr the Viking – $9.99
3DS Retail
Layton's Mystery Journey – $39.99 (available Friday)
Mario & Luigi: Superstar Saga + Bowser's Minions – $39.99 (available Friday)
3DS Download
Symphony of Eternity – $7.99
3DS Themes
BOXBOY! 2.5th Year Anniversary
eShop Sales
Great deals this week! Check out the full list of deals on Nintendo 3DS and Wii U available this week at http://www.nintendo.com/games/sales-and-deals.
Activities
Halloween My Nintendo Rewards – Get set for Halloween with these spooky new rewards from My Nintendo. Here are our picks for Halloween and fall-inspired rewards for the month of October.
Three days to save the world – Link's shadowy tale:
The Legend of Zelda: Majora's Mask 3D (Nintendo 3DS) – 40 percent off
Try out a new look for Halloween:
Splatoon (Wii U) – 20 percent off
Yoshi's New Island (Nintendo 3DS) – 20 percent off
Horribly scary battles:
Sin & Punishment (Wii U) – 30 percent off
Sin & Punishment: Star Successor (Wii U) – 40 percent off
Epic adventures battling the darkness:
Golden Sun (Wii U) – 30 percent off
Golden Sun: The Lost Age (Wii U) – 40 percent off
Halloween brain teasers that are frightfully challenging:
Brain Age: Concentration Training (Nintendo 3DS) – 30 percent off
Puzzle & Dragons Z + Puzzle & Dragons Super Mario Bros. Edition (Nintendo 3DS) – 30 percent off
A pulse-pounding plummet down a well:
Kersploosh! (Nintendo 3DS) – 40 percent off
Special offers for RPG fans:
Xenoblade Chronicles 3D (Nintendo 3DS) – 40 percent off
Source: Nintendo PR
Leave a Reply