Nintendo Download (6/14/18, North America) – Fortnite, Hollow Knight, Fallout Shelter, Paladins, more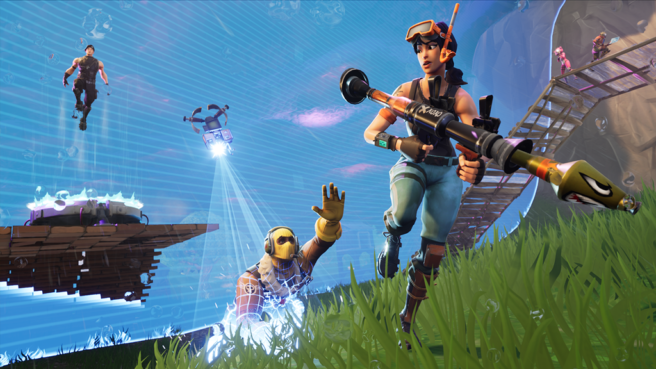 This week's North American Nintendo Downloads are as follows:
Switch Retail
Flashback – $19.99 (available June 17)
LEGO The Incredibles – $59.99 (available June 15)
R.B.I. Baseball 18 – $29.99
The Lost Child – $49.99 (available June 19)
Switch Download
ACA NeoGeo Super Sidekicks 3: The Next Glory – $7.99
Alchemic Jousts – $9.99
Beekyr Reloaded – $9.99
Bloons TD 5 – $14.99
Chameleon Run Deluxe Edition – $5.99
Fallout Shelter – free
Fortnite – free
Grab the Bottle – $4.49 (available June 20)
Hollow Knight – $15.00
Ink – $7.19 (available June 19)
Jolt Family Robot Racer – $4.99
Lanota – $14.99
Moorhuhn Remake – $6.99
Otto – $4.99
Paladins – Founder's Pack – $29.99
Parallel – $9.99
Pub Encounter – $16.99
Soccer Slammers – $9.99
Switch DLC
Splatoon 2: Octo Expansion – Play as an Octoling for the very first time in this large-scale downloadable content for the Splatoon 2 game. This full-on single-player adventure spans 80 missions starring Agent 8, a new character who awakens on a dark subway platform. Navigate this mysterious underground test facility in a desperate battle to reach the surface of Inkopolis. Escape from these twisted depths, and you'll be able to join multiplayer matches as an Octoling. You may think you know everything about the world of Splatoon, but these waters run deep, and so does the lore. The Splatoon 2: Octo Expansion DLC is available now. Full game is required to use DLC.
Xenoblade Chronicles 2 – New DLC is releasing for owners of the Xenoblade Chronicles 2 Expansion Pass. Buy the Expansion Pass to gain access to titanic new content, including the Challenge Battle Mode as well as Xenoblade Chronicles 2: Torna ~ The Golden Country this September.
Challenge Battle Mode, launching today at 10 p.m. PT.
This additional battle mode will test players' skills with new battle rules in challenging new scenarios that highlight minor story elements and bring the characters Shulk and Fiora from the original Xenoblade Chronicles into the Nintendo Switch game for the very first time as new Rare Blades.
For full patch notes, please visit the Xenoblade Chronicles 2 site.
eShop Sales
Save up to 50 percent on select digital games – Super Smash Bros. is back! Celebrate E3 2018 with savings on select digital games that helped make some of your favorite fighters famous, as well as other great games. Offer starts today at 9 a.m. PT and ends June 21 at 8:59 a.m. PT.
Nintendo eShop on Nintendo Switch, Nintendo 3DS and Wii U
Great deals this week! Check out the full list of deals available this week at http://www.nintendo.com/games/sales-and-deals.
Source: Nintendo PR
Leave a Reply