Nintendo Download (7/19/18, North America) – Mega Man X Legacy Collection 1 + 2, Pool Panic, more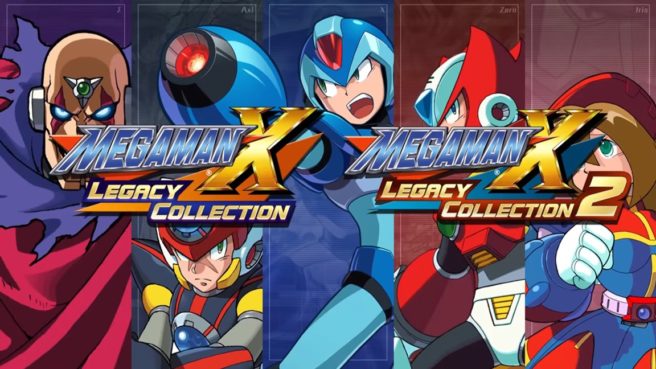 This week's North American Nintendo Downloads are as follows:
Switch Retail
Mega Man X Legacy Collection – $19.99
Mega Man X Legacy Collection 2 – $19.99
Switch Download
ACA NeoGeo League Bowling – $7.99
Animal Rivals: Nintendo Switch Edition – $2.99
Arcade Archives City Connection – $7.99
Beat Rush – $4.99
Bomb Chicken – $14.99
Chicken Assassin: Reloaded – $7.99
Frost – $10.39
GALAK-Z: Variant S – free
Guts & Glory – $14.99
Heroki – $6.99 (available July 20)
Hungry Shark World – $9.99
Lost Phones Stories – $9.99
NoReload Heroes – $9.99
Pool Panic – $14.99
Semblance – $9.99 (available July 24)
Spheroids – $7.99 (available July 20)
Starship Avenger Operation: Take Back Earth – $4.99
Tanzia – $16.99
Voxel Shot for Nintendo Switch – $8.99
VSR: Void Space Racing – $7.99 (available July 20)
Werewolf Pinball – $1.99 (available July 20)
3DS Download
Sanrio Characters Picross – $7.99
3DS Demo
WarioWare Gold
eShop Sales
Nintendo eShop on Nintendo Switch, Nintendo 3DS and Wii U
Great deals this week! Check out the full list of deals available this week at http://www.nintendo.com/games/sales-and-deals.
Activities
The Second Nintendo Labo Creators Contest: Enter for a chance to win a specially designed, collectible cardboard-inspired Nintendo Switch system, Nintendo Labo Creators jackets and more. The contest runs July 19 at 11 a.m. PT through Aug. 20 at 10:59 a.m. PT. For more details about how to enter, please visit https://labo.nintendo.com/share/#!/contest/.
Octopath Traveler My Nintendo Rewards: To celebrate the launch of the Octopath Traveler game, My Nintendo is offering eight different box art covers (one for each of the main characters) for the case of your Octopath Traveler game (sold separately). Redeem your points and choose your character for your box art cover! Plus, we're also offering downloadable wallpapers for your PC or smart phone. Check out the details at My Nintendo: https://my.nintendo.com/news/6b677325fde74ff4
Pixel Toads Lead to Platinum Points: Captain Toad is starring in his own puzzling quest in the Captain Toad: Treasure Tracker game for the Nintendo Switch system and the Nintendo 3DS family of systems. My Nintendo members can join the adventure with a special "hide-and-seek" mission to earn My Nintendo points. Here's the mission: Log in to My Nintendo, then find all four Pixel Toads hidden on the official game website and earn 100 Platinum Points – that's 25 Platinum Points for each Pixel Toad you find. Good luck!
Celebrate the One-Year Anniversary of Splatoon 2 with a Splatfest and My Nintendo: July 21 marks the first anniversary of the Splatoon 2 game, and we're celebrating with a global Splatfest! Which sea creature is your favorite, Squid or Octopus? This hotly contested Splatfest will occur from 9 p.m. PT on July 20 until 9 p.m. PT on July 21. To help celebrate, My Nintendo is offering Inkling and Octoling printable posters, as well as downloadable wallpaper. Redeem your points for these rewards today.
Source: Nintendo PR
Leave a Reply