Nintendo Download (7/27/17, North America) – Overcooked, Namco Museum, more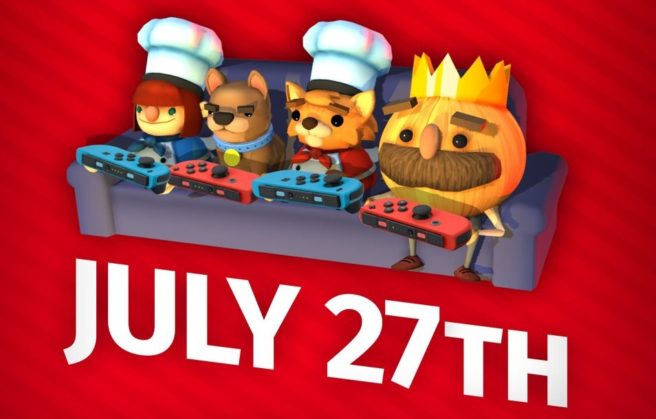 This week's North American Nintendo Downloads are as follows:
Switch Download
ACA NeoGeo Super Sidekicks – $7.99
Infinite Minigolf – $14.99 (available Friday)
Namco Museum – $29.99 (available Friday)
Namco Museum (Pac Man VS. Free Multiplayer-only Ver.) – free (available Friday)
Overcooked Special Edition – $19.99
Ultra Hyperball – $9.99 (available Friday)
Qbics Paint – $4.99
Wii U Virtual Console
Air Zonk – $5.99
Ninja Spirit – $5.99
Victory Run – $5.99
3DS Retail
Hey! Pikmin – $39.99 (available Friday)
Miitopia – $39.99 (available Friday)
3DS Download
Parascientific Escape – Crossing at the Farthest Horizon – $5.00
New 3DS Download
Swipe – $1.49
eShop Sales
Great deals this week! Check out the full list of deals on Nintendo 3DS and Wii U available this week at http://www.nintendo.com/games/sales-and-deals.
Activities
My Nintendo Rewards – The New Nintendo 2DS XL system will be available on July 28. To celebrate the new hardware release, My Nintendo is offering rewards to help fill any system in the Nintendo 3DS family with fun new experiences. For the artists among you – and for people who just like to doodle from time to time – we have Swapdoodle rewards.** We're also offering two sets of My Nintendo exclusive DLC, each containing three new stationery designs. You can get them by redeeming some of your Platinum Points.
Nikki's Friend Theme
Swapdoodle DLC: Nikki's Simply Adorable Animals
Swapdoodle DLC: Super Mario Basic Lessons
Swapdoodle DLC: Wind Waker
The following DLC is exclusive to My Nintendo, so don't miss your chance!
Swapdoodle DLC: Stationery Set A
Swapdoodle DLC: Stationery Set B
Source: Nintendo PR
Leave a Reply