Nintendo Download – August 11, 2022 (North America)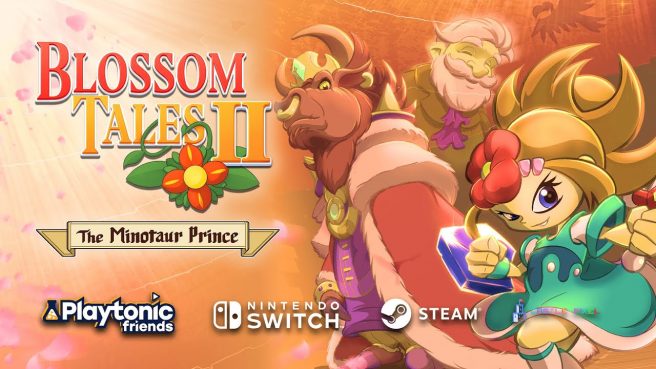 It's time for the latest North American Nintendo Download report for the week of August 11, 2022. The latest releases include Blossom Tales II, Cult of the Lamb, and more.
Here's the full lineup:
Switch Retail
Little League World Series Baseball 2022 – $49.99 (available August 17)
Two Point Campus – $39.99
Switch Download
ANIQUILATION – $14.99
Arcade Archives Dig Dug – $7.99
Arcade Paradise – $19.99
Blossom Tales II: The Minotaur Prince – $14.99 (available August 16)
Cat Slide Tiles – $3.99
Clumsy Rush: Ultimate Guys – $6.99
Comic Coloring Book Complete Edition: SKETCH – $23.19
Counter Bunny Hop – Strike Go Simulator Xtreme Deluxe 3D Shooter – $14.99
Cult of the Lamb – $24.99
Family Chess Ultimate Edition – $1.99
fig. – $9.99
Gigapocalypse – $9.99
Hell Blasters – $14.99 (available August 17)
Japanese NEKOSAMA Escape The Sento – $9.99
Jeopardy! PlayShow – $24.99
Jump The Car – $9.99
Ki11er Clutter – $9.99
Last Threshold – $4.99
Logic Pic – $7.99
Mega Man Battle & Fighters – $7.99
Monster destroyer – $7.13
origamihero games 2D Platformer Collection – $4.19
Robo Revenge Squad – $20.00 (available August 17)
Sakura MMO – $9.99 (available August 12)
SENGOKU Princess – $19.99
Shin chan: Me and the Professor on Summer Vacation -The Endless Seven-Day Journey- – $39.99
Star Seeker in: the Secret of the Sorcerous Standoff – $5.99
Super Bullet Break – $19.99 (available August 12)
Super Space Serpent SE / Perpetuum Mobile Bundle – $12.99
Thibalryn – $1.00
Ultimate 4×4 Offroad Trucks :Car Racing Driving Simulator 2022 – $24.99
Viki Spotter: Space Mission – $4.99
Voyage – $14.99 (available August 12)
Zen Mindfulness: Meditation and Relax – $2.99
eShop Sales
Nintendo eShop on Nintendo Switch, Nintendo 3DS and Wii U
Check out the full list of deals available this week at https://www.nintendo.com/store/sales-and-deals.
Activities
Discover the will to survive in Apex Legends: Hunted. The Apex Games are full of surprises and challenges that put your skills to the test. Hit them with your best shot as Vantage, a survivalist who can spot a threat coming from down her sniper scope to triumph against the odds. Explore a reforged Kings Canyon, and be sure to drop in on what used to be Skull Town, now called Relic. Set your sights on style with the Hunted Battle Pass. There's no one road to the top: For the first time, certain challenges can now be completed in the mode of your choice, giving you the flexibility to complete the Battle Pass your way. The ultimate test of survival is here.
Here's a fresh opportunity for you! For a limited time you can earn double My Nintendo Gold Points on the digital version of the Splatoon 3 game. That means you can earn 10% in Gold Points – which you can then use toward your next eligible digital game or DLC. Already pre-ordered digitally? Those points are coming your way, too – booyah! Offer ends Sept. 30 at 11:59 p.m. PT.
Source: Nintendo PR
Leave a Reply