Nintendo Download – January 28, 2021 (North America) – Re:Zero, Olija, more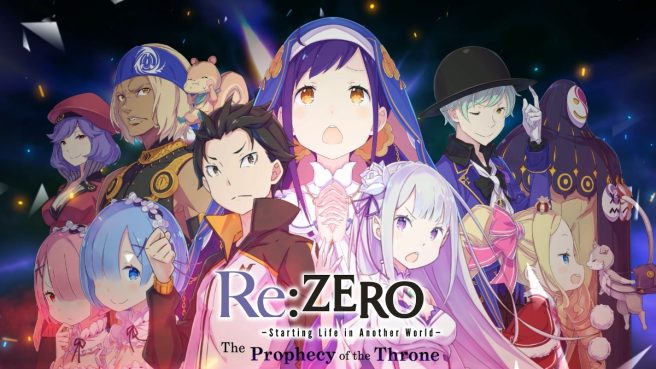 This week's North American Nintendo Downloads are as follows:
Switch Retail
Re:Zero – Starting Life in Another World: The Prophecy of the Throne – $59.99 (available January 29)
Switch Download
Arcade Archives Black Hole – $7.99
Bonkies – $14.99 (available January 29)
Burn! SuperTrucks – $7.99 (available January 29)
Caves and Castles: Underworld – $4.99 (available January 29)
Chill Panda – $9.99 (available January 29)
Citizens Unite!: Earth x Space – $29.99
Colossus Down – $17.99
Cooking Festival – $10.99 (available January 29)
Crossbow: Bloodnight – $4.99 (available January 29)
Cultist Simulator: Initiate Edition – $19.99 (available February 2)
Cupcake Match – $7.99
Disjunction – $15.99
Glyph – $19.99 (available February 1)
Gods Will Fall – $24.99
Golden Force – $19.99
Heaven's Vault – $17.99
Joe's Diner – $19.99
Marchen Forest – $34.99
Olija – $14.99
Pineview Drive – $19.99
Pixel Game Maker Series The Witch and The 66 Mushrooms – $6.60
Redout: Space Assault – $9.99
Royal Tower Defense – $7.99
Save Farty – $6.99
Seal Electric Railway – $3.85
Shark Copter vs. Zombie Dancers – $3.85
Spaceship Curse – $3.85
Strange Field Football – $6.99
SushiParty – $9.99
Sword of the Necromancer – $14.99
The Choice of Life: Middle Ages – $4.99
TOHU – $14.99
Vera Blanc: Ghost In The Castle – $4.99 (available January 29)
Woodsalt – $24.99
Switch DLC
Viva Festivale! – February's arriving soon, and that means love is in the air with a free update to the Animal Crossing: New Horizons game. Celebrate the sentimental season with chocolate hearts and heart-shaped bouquets, which will be available for purchase through Nook Shopping, beginning Feb. 1 and running through Feb. 14. Also, on Feb. 15, Dancer Pavé will arrive to your island's plaza to usher in some confetti and carnival spirit for a special Festivale event. You can prepare for the event in advance by shopping for Festivale clothing at the Able Sisters shop for a limited time, beginning Feb. 1.
Fulfill Fenyx's Destiny – The newest DLC for Immortals Fenyx Rising has arrived – A New God. Overcome the legendary trials and challenges of the gods of Olympos to change the Greek Pantheon and fulfill your destiny. This DLC and two other narrative DLCs are available with the Immortals Fenyx Rising Season Pass.
Have a Nice Trip – In Fatal Falls, the latest individual DLC installment for Dead Cells, explore floating shrines, infiltrate the lair of an outlawed secret society and learn the tells of a new boss. On top of the new areas, you will also discover new weapons and enemies. You can also experience all three DLCs, including Fatal Falls, The Bad Seed and Rise of the Giant, in the Dead Cells: The Fatal Seed Bundle, available now.
3DS Download
Silver Falls – Undertakers – $4.99
Bricks Pinball 4 – $9.99
Wii U Download
Seasonal Assistant – ?
eShop Sales
Nintendo eShop on Nintendo Switch, Nintendo 3DS and Wii U
Great deals this week! Check out the full list of deals available this week at https://www.nintendo.com/games/sales-and-deals.
Source: Nintendo PR
Leave a Reply