Nintendo Download – September 24, 2020 (Europe) – Kirby Fighters 2, Rivals of Aether, more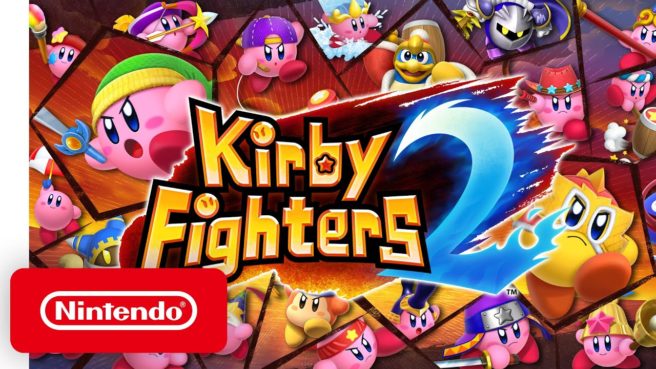 This week's European Nintendo Downloads are as follows:
Switch Retail
Big-Bobby-Car: The Big Car
Trollhunters: Defenders of Arcadia
Switch Download
Alluris
Anti Hero Bundle
Breakpoint
Car Driving School Simulator
Castlestorm II
Cooking Tycoons 2: 3 in 1 Bundle
Embracelet
Going Under
Gothic Murder: Adventure That Changes Destiny
Great Conqueror Rome
Indie Darling Bundle Vol. 1
Jet Set Knights
Kirby Fighters 2
Lost Ember
Micro Picro Racers
My Diggy Dog 2
Orbt XL
Perky Little Things
Rebel Galaxy Outlaw
Rivals of Aether
RollerCoaster Tycoon 3: Complete Edition
Secrets of Me
Selfy Collection The Dream Fashion Stylish
Twin Breaker: A Sacred Symbols Adventure
Unrailed!
Vigor (free-to-play)
Worm Jazz
Switch DLC
Cadence of Hyrule – Symphony of the Mask
Civilization VI – Byzantium & Gaul Pack
Switch Demos
Strawberry Vinegar
Tools Up!
eShop Sales
Title
Content Type
Discount
Sale Start Date
Sale End Date
Astebreed
(PLAYISM)
Game – Digital Only
60% off
22/09/2020 00:00 LT
05/10/2020, 23:59 LT
Bloodstained: Curse of the Moon 2
(Inti Creates)
Game – Digital Only
30% off
23/09/2020 09:00 LT
06/10/2020, 23:59 LT
Blaster Master Zero
(Inti Creates)
Game – Digital Only
50% off
23/09/2020 09:00 LT
06/10/2020, 23:59 LT
Bloodstained: Curse of the Moon
(Inti Creates)
Game – Digital Only
50% off
23/09/2020 09:00 LT
06/10/2020, 23:59 LT
For The King
(Curve Digital)
Game – Dual Distribution
60% off
24/09/2020 00:00 LT
15/10/2020, 23:59 LT
Velocity 2X
(Curve Digital)
Game – Digital Only
75% off
24/09/2020 00:00 LT
15/10/2020, 23:59 LT
Rogue Aces
(Curve Digital)
Game – Digital Only
75% off
24/09/2020 00:00 LT
15/10/2020, 23:59 LT
Bulletstorm: Duke of Switch Edition
(Gearbox Publishing)
Game – Digital Only
75% off
24/09/2020 00:00 CEST
14/10/2020, 23:59 LT
Duke Nukem 3D: 20th Anniversary World Tour
(Gearbox Publishing)
Game – Digital Only
50% off
24/09/2020 00:00 CEST
14/10/2020, 23:59 LT
FINAL FANTASY VII
(SQUARE ENIX)
Game – Digital Only
50% off
24/09/2020 15:00 CEST
30/09/2020, 23:59 LT
FINAL FANTASY VIII Remastered
(SQUARE ENIX)
Game – Digital Only
50% off
24/09/2020 15:00 CEST
30/09/2020, 23:59 LT
Final Fantasy IX
(SQUARE ENIX)
Game – Digital Only
50% off
24/09/2020 15:00 CEST
30/09/2020, 23:59 LT
FINAL FANTASY X/X-2 HD Remaster
(SQUARE ENIX)
Game – Dual Distribution
50% off
24/09/2020 15:00 CEST
30/09/2020, 23:59 LT
FINAL FANTASY XII THE ZODIAC AGE
(SQUARE ENIX)
Game – Dual Distribution
50% off
24/09/2020 15:00 CEST
30/09/2020, 23:59 LT
I am Setsuna
(SQUARE ENIX)
Game – Digital Only
50% off
24/09/2020 15:00 CEST
30/09/2020, 23:59 LT
R-Type Dimensions EX
(Tozai Games)
Game – Digital Only
50% off
24/09/2020 00:00 CEST
08/10/2020, 23:59 LT
Permanent Price Drops
Title
Content Type
Price Drop Effective From
Price Point on Nintendo eShop*
Rocket League
(Psyonix)
Game – Dual Distribution
23/09/2020 17:00 CEST
Free

Previously
€19,99 / £15,04 / CHF 19,48 / ₽1142

Disgaea 5 Complete
(NIS America)
Game – Dual Distribution
23/09/2020 10:00 LT
€39,99 / £34,99 / CHF 56 / ₽2999

Previously
€59,99 / £49,99 / CHF 84 / ₽4199

Dead by Daylight
(Behaviour Interactive)
Game – Dual Distribution
23/09/2020 19:00 CEST
€29,99 / £26,24 / CHF 42 / ₽2249

Previously
€39,99 / £34,99 / CHF 56 / ₽2999
Source: Nintendo PR
Leave a Reply