Nintendo & E3's future, Disgaea 7, Switch Online vouchers return, and more | Nintendo Everything Refresh Ep. 042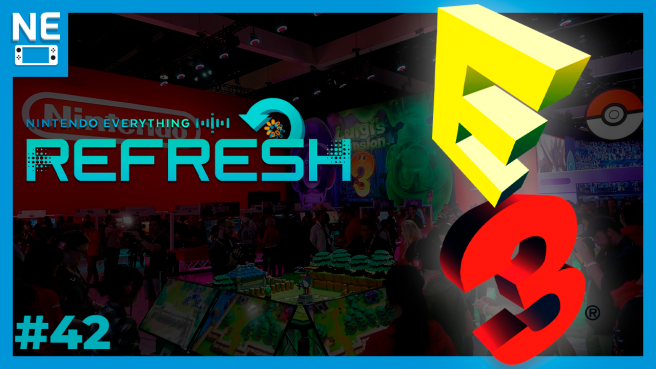 While the return of E3 is still a few months away, the long-running gaming convention made the news this week after a report alleged that Nintendo, as well as Microsoft and Sony, are all reportedly skipping the event. In this week's episode of Nintendo Everything Refresh, join your hosts Nick, Nicolas and Dennis as they discuss E3's future and the unknown variables of this year's show. They'll also discuss the recently announced Disgaea 7 and Rhapsody games coming from NIS, the return of Switch Online Game Vouchers in North America, the impending death of Knockout City, and more!
Our podcast is available on most major streaming platforms, including Spotify, Apple Podcasts, Google Podcasts, Amazon Music and Audible, or you can check out the video version on YouTube.
Direct downloads are also available for free through our friends at ListenNotes. Have ideas or suggestions for the show, or want to submit a fan question or topic for a future episode? Let us know what you think – and thanks for listening!
➡ Inquiries/Fan Mail: [email protected]
Episode Segments:
(00:00) | Intro
(00:38) | Rumor: Nintendo skipping E3
(08:52) | Vouchers are back!
(15:38) | Detective Pikachu 2 still happening?
(19:44) | Super Mario Movie poster
(20:33) | Knockout City shutting down
(27:19) | Disgaea 7
(30:58) | Rhapsody: Marl Kingdom Chronicles announced
(34:00) | MLB The Show 23 announced
(37:12) | Loop8: Summer of Gods
(41:39) | Monster Hunter Rise: Sunbreak update
(45:43) | Recent Releases
(54:08) | Recent Releases
(01:04:38) | What we've been playing
Hosts:
Nick Serpa: @ndserpa
Dennis Gagliardotto: @LyonHart_
Luiz Estrella: @Luizestrella_
Nicolas Shadday: @Dayshade1999
Leave a Reply