Nintendo hosting huge sale on the Japanese 3DS eShop next week, discounts on 100 games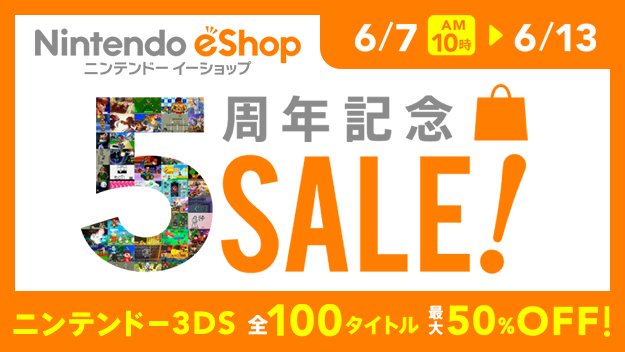 The 3DS eShop is celebrating its fifth anniversary next week. To honor the occasion, Nintendo will be hosting a huge sale in Japan. A ton of retail titles, downloadable software, and Virtual Console games will be discounted – 100 of them, in fact.
First, here are some of the highlights:
Super Smash Bros. for 3DS – 3,650 yen (was 5,616 yen)
Fire Emblem Fates – 3,299 yen (was 5,076 yen)
Mario Kart 7 – 3,209 yen (was 4,937 yen)
Animal Crossing: Happy Home Designer – 3,024 yen (was 4,320 yen)
Rhythm Heaven: The Best Plus – 3,299 yen (was 5,076)
Dragon Quest VIII – 4,198 yen (was 6,458 yen)
BoxBoy!! – 476 yen (was 680 yen)
Super Mario Land 2: 6 Golden Coins – 205 yen (was 411 yen)
And other games included in the sale:
Retail
Etrian Odyssey IV: Legends of the Titan
Persona Q
Metal Gear Solid: Snake Eater 3D
Theatrhythm Final Fantasy: Curtain Call
Stella Glow
Attack on Titan
Kid Icarus: Uprising
Super Mario 3D Land
Star Fox 64
Zelda: A Link Between Worlds
Zelda: Ocarina of Time 3D
New Super Mario Bros. 2
Nintendo Pocket Football Club
Pro Yakyuu Famista Returns
Fantasy Life Link!
Downloadable Software
Battleminer
The Battle Cats POP!
BoxBoy! One More Box
Let's Make A Large Frontier Town
IronFall Invasion
Azure Striker Gunvolt
Maison de Maou
Chain Blaster
Super Bike Rider: Gather! Super Beast Hunter
Freakyforms Deluxe: Your Creations, Alive!
Tokyo Crash Mobs
Fluidity: Spin Cycle
Dillon's Rolling Western
Dillon's Rolling Western: The Last Ranger
Ketzal's Corridors
Chibi-Robo! Photo Finder
Dr. Mario: Miracle Cure
Pushmo
Crashmo
Sakura Samurai: Art of the Sword
Mario and Donkey Kong: Minis on the Move
HarmoKnight
Witch & Hero
EDGE
Virtual Console
F-Zero
Super Mario World
Zelda: A Link to the Past
EarthBound
Puyo Puyo Tsu
Downtown Special: Kunio-kun no Jidaigeki da yo Zenin Sh?g?!
Downtown Nekketsu K?shinkyoku: Soreyuke Daiund?kai
River City Ransom
Super Dodge Ball
Nintendo World Cup
Ikki
Atlantis no Nazo
Elevator Action
Hanjuku Hero
King's Knight
Final Fantasy
Final Fantasy II
Final Fantasy III
Spelunker
Ninja JaJaMaru-ku
Bases Loaded
Shin Megami Tensei: Devil Children – Black Book
Shin Megami Tensei: Devil Children – Red Book
Mega Man Xtreme
Mega Man Xtreme 2
Zelda: Oracle of Seasons
Zelda: Oracle of Ages
Zelda: Link's Awakening DX
Trade & Battle: Card Hero
Mario Golf
Mario Tennis
Mega Man: Dr. Wily's Revenge
Mega Man II
Mega Man III
Mega Man IV
Mega Man V
Kirby's Star Stacker
Kirby's Pinball Land
Kirby's Block Ball
For the Frog the Bell Tolls
Kid Icarus: Of Myths and Monsters
Game & Watch Gallery
Game & Watch Gallery 2
Super Mario Land
Wario Land: Super Mario Land 3
Kirby's Dream Land
Kirby's Dream Land 2
Mario Picross
Picross 2
Yoshi no Panepon
The sale will be held between June 7 and June 13 in Japan. My Nintendo members can receive a 10 percent bonus discount.
Leave a Reply