Nintendo Live 2023 U.S. event dated, new details revealed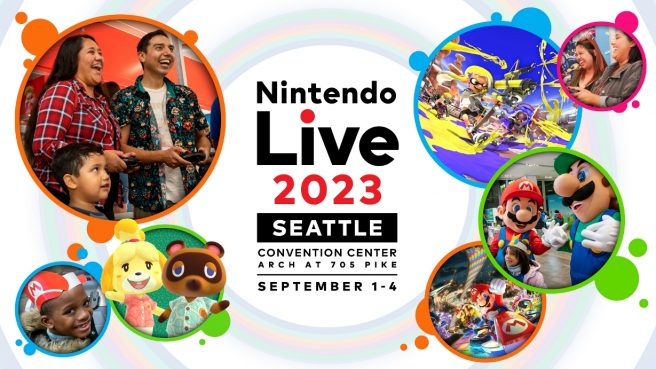 Original (5/8): New details are in about the upcoming Nintendo Live 2023 event that will be held in the United States for the first time.
Nintendo has now dated the experience, which will be held between September 1 and September 4 at the Seattle Convention Center. Fans can look forward to playable Switch titles, live stage performances, tournaments, photo ops, event merchandise, and more. It's said to be "designed for people of all ages and gaming experience."
Here's some additional information:
How To Register

First, visit the Nintendo Live website and register for an opportunity to be randomly selected to receive free tickets. The registration period starts on May 31 at 9 a.m. PT and will remain open until June 22 at 11:59 p.m. PT.
Eligible Nintendo Account holders who are at least 18 years old can register for the drawing. You can easily sign up for an account here if you don't already have one.
For groups of two or more, each attendee with their own Nintendo Account must be linked to the same free Nintendo Account Family group. This ensures that all parties in the same group can attend together and on the same day.
If selected, attendance will be for one event day. More details about registering for and visiting Nintendo Live 2023 can be found on the Nintendo Live website.

Heading to PAX West?

Nintendo Live 2023 will take place at the Seattle Convention Center alongside the PAX West gaming and pop-culture convention. PAX West badge holders who are interested in attending Nintendo Live 2023 can visit the official PAX West website for details as they become available. Please note that a PAX West badge alone does not guarantee entry.

Tournament Play

In addition to Nintendo Switch gameplay, photo ops with costume characters like Mario and Luigi, a stage with live performances, a pop-up Nintendo store with merchandise and additional family-focused activities, Nintendo Live 2023 will also host the Mario Kart 8 Deluxe Championship 2023 and Splatoon 3 Championship 2023 tournaments! Online qualifiers* for these tournaments will begin May 27, where the top performers will secure their tickets to Nintendo Live 2023 and the opportunity to compete against the best on the big stage. Registration for the qualifiers opens today at 9 a.m. PT! For details about how to register, head to https://nintendo.com/events/articles/nintendo-live-2023-championship-qualifiers.
More information about Nintendo Live 2023 can be found on the official website here.
---
Update (5/31): Registration is now open. Head on over here to get the process started.
Leave a Reply