Nintendo on digital sales, rapid increase during first quarter of fiscal year due to COVID-19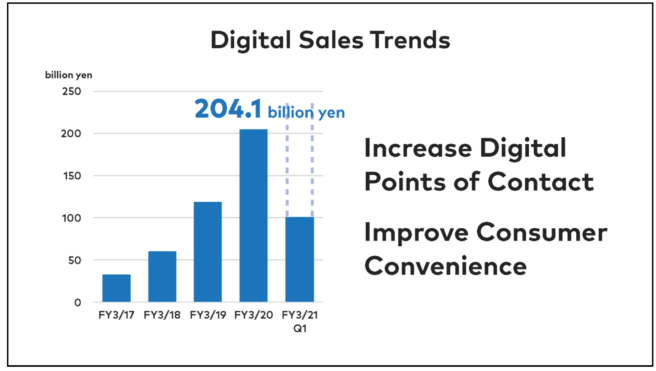 This information comes from Nintendo president Shuntaro Furukawa, speaking during the company's Corporate Management Policy Briefing…
Our digital sales initiative began in 2006 with the opening of the Wii Shop Channel, and it really accelerated with the Nintendo Switch business.

Nintendo has worked to create new business opportunities within our digital sales initiatives. As previously mentioned, examples of this include the ability to purchase downloadable versions of titles via a smart device or computer, as well as selling download codes for games at convenience stores and other locations. Importantly, digital sales initiatives help diversify our sales methods in response to market changes and are an important way to maximize the volume of software sales.

This chart shows sales trends and the sales ratio of Nintendo Switch titles that are offered both in physical and digital formats.

Both the number and ratio of downloadable-version software sales are trending upward.

The effects of stay-at-home requirements due to COVID-19 and the popularity of titles suitable for download led to a rapid increase in digital sales during the first quarter of this fiscal year. As a result, the percentage of downloadable versions of titles sold rose to approximately 50% by the end of June. On the other hand, the percentage of digital sales has stabilized to pre-pandemic levels now that physical retailers have started to reopen overseas. Therefore, we do not expect the increased digital sales seen in the first quarter of this fiscal year to continue.

If we look at the software sales trends another way, we see half of our consumers purchasing physical versions of our games, even when many of them around the world were staying at home. So, while digital versions offer several benefits to consumers, as a company that emphasizes unique combinations of software and accessories such as the Nintendo Labo series and Ring Fit Adventure, converting our business to be 100% digital is not our ultimate goal.

We understand that digital initiatives contribute greatly to our business in terms of improving margins, but our aim is to maximize the total number of units sold. We will continue to offer our entertainment experiences both digitally and physically, in a way that naturally aligns with consumer preferences.
Leave a Reply