Nintendo on Pokemon: Let's Go, Pikachu / Eevee and release plans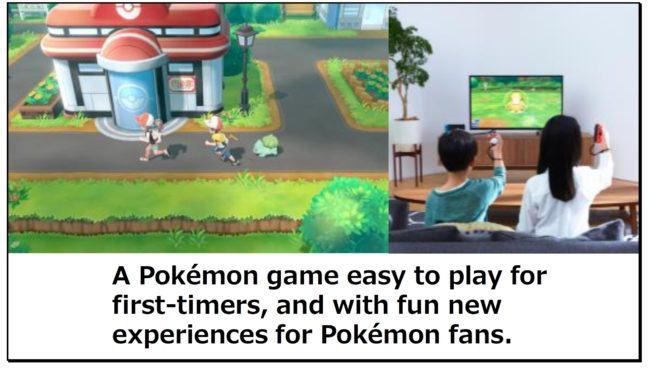 This information comes from Nintendo president Shuntaro Furukawa…
Global release of Pokémon: Let's Go, Pikachu! and Pokémon: Let's Go, Eevee!, the latest installments of the Pokémon series, will take place in November. Their release finally brings the Pokémon series to Nintendo Switch.

This title is designed to be enjoyed by everyone. It is easy to play for people new to the Pokémon series, and endearing to fans of the Pokémon games. The title is based on Pokémon Yellow Version: Special Pikachu Edition, which was released for Game Boy in 1998, but this title offers completely new experiences. For example, the gameplay reflects Pokémon Go, and to catch a Pokémon the player swings the Joy-Con in an action similar to throwing a Poké Ball. In addition, by sharing the Joy-Con, two people can play at the same time in the same game, which is a first for the series.

The Poké Ball Plus will be released at the same time as a play accessory for this title. This Poké Ball Plus can be used instead of the Joy-Con as a game controller and "thrown," so to speak, to capture Pokémon as a trainer. Further enhancing the realism of the experience, the player hears a sound and feels something in the palm of their hand when they succeed in capturing a Pokémon. In addition, players can take their favorite Pokémon from Pokémon: Let's Go, Pikachu! and Pokémon: Let's Go, Eevee! out into the world outside of the game and, as they walk around, it feels like the Pokémon is actually inside the Poké Ball Plus. More than half of all consumers who have pre-ordered this title chose the software bundled with Poké Ball Plus. Poké Ball Plus can also connect to Pokémon GO so that users can
continue playing without continuously looking at their smartphones.

Pokémon: Let's Go, Pikachu! and Pokémon: Let's Go, Eevee! can be linked with Pokémon Go so they can carry around the Pokémon captured with Pokémon Go. Also, the Pokémon Go application can get special items that can lead to the acquisition of new kinds of Pokémon. It would be wonderful if this fun kind of linkage piqued the interest of Pokémon Go users all around the world.

We have created various special bundles for those consumers looking to purchase a system together with software.

To coincide with the November release of Pokémon: Let's Go, Pikachu! and Pokémon: Let's Go, Eevee!, we have prepared a package set that bundles the game with a Poké Ball Plus and a specially designed Nintendo Switch system.
Leave a Reply