Nintendo Switch Online adds Super Mario Bros. 2, Kirby's Adventure this month as new NES games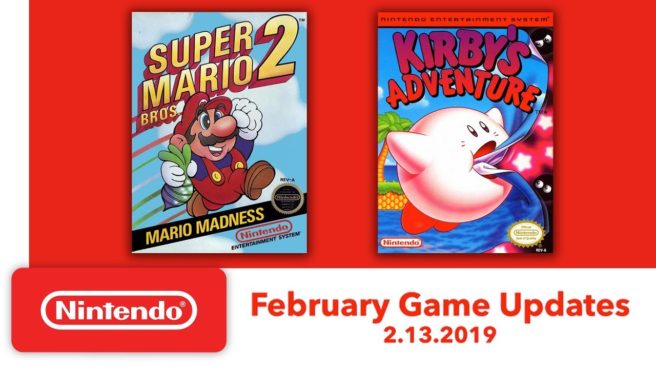 Nintendo has revealed this month's NES offerings for Switch Online. Two more games are joining the lineup in the west on February, including Super Mario Bros. 2 and Kirby's Adventure.
In Japan, Nintendo will be throwing another game in the mix: Tsuppari Oozumou. This is the second month in a row that Japan has had an extra game. However, anyone who creates a Japanese account on their Switch system regardless of their region can play Tsuppari Oozumou.
Here's today's full announcement:
The next additions to the Nintendo Entertainment System – Nintendo Switch Online game collection star some of Nintendo's most beloved characters, including Mario, Luigi, Princess Peach, Toad and Kirby! On Feb. 13, the Kirby's Adventure and Super Mario Bros. 2 games will be available to play anytime, anywhere as part of the Nintendo Switch Online service.

Kirby's Adventure – Using 20 unique tricks and Kirby's ability to steal enemies' powers by swallowing them, you'll have to make your way through a horrific land filled with all kinds of nightmares. Recover the broken pieces of the Star Rod, and everyone in Dream Land will sleep peacefully once again. If you fail, the citizens of Dream Land will be subjected to a lifetime of terrible nightmares.

Super Mario Bros. 2 – Mario, Luigi, Princess Toadstool and Toad embark on a quest together to save the day against the villainous Wart. Pick up items and throw them at your adversaries to clear levels in seven fantastical worlds. Even enemies can be picked up and tossed across the screen. This unique installment in the Super Mario Bros. series will keep you coming back for more.

These titles join the growing library of NES games with newly added online play on the Nintendo Switch system, which also includes more than 30 classics like Super Mario Bros. 3, Metroid and Zelda II: The Adventure of Link that are available exclusively to Nintendo Switch Online members.

Also, over the next month, Nintendo is hosting a series of online qualifier events for the Super Smash Bros.™ Ultimate North America Open 2019 and Splatoon™ 2 North America Inkling Open 2019 tournaments for Nintendo Switch Online users. The winners of the final qualifying events have the chance to compete in a final tournament at this year's PAX East conference in Boston. More details about how to enter the online tournaments can be found at https://www.nintendo.com/switch/events/.
And a couple of videos for this month's NES releases on Switch:
Source: Nintendo PR
Leave a Reply