Nintendo Switch Online featuring new wave of Super Mario Odyssey icons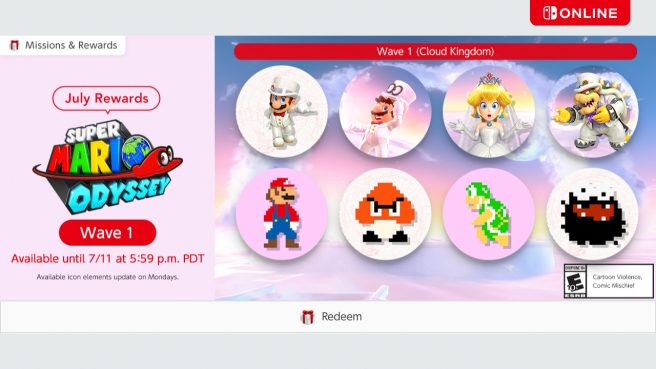 When the icons feature for Nintendo Switch Online kicked off a few months ago, Super Mario Odyssey was one of the earliest featured games. We're now in July, and for this month, Nintendo has again decided to revisit the title rather than going with a brand new one.
While that'll be disappointing to some, we'll at least be seeing some new designs this time around. The first batch just went live and features Mario, Peach, and Bowser in wedding attire, 8-bit icons, and more. Icon elements will be rotated on a weekly basis each Monday until August 1.
We'll also mention that Animal Crossing: New Horizons has again refreshed its designs once again. Until August 1, fans can claim icons for residents with July birthdays. This pattern is expected to continue in the months ahead.
Note that you need to have an active Nintendo Switch Online subscription in order to obtain these icons. Assuming you do, keep in mind that each design costs 5 or 10 Platinum Points on My Nintendo. Points can be easily earned by completing various missions such as playing a game that supports online play or backing up save data through the cloud.
Leave a Reply