Nintendo Switch Online to offer NES games Kung-Fu Heroes and Vice: Project Doom in August 2019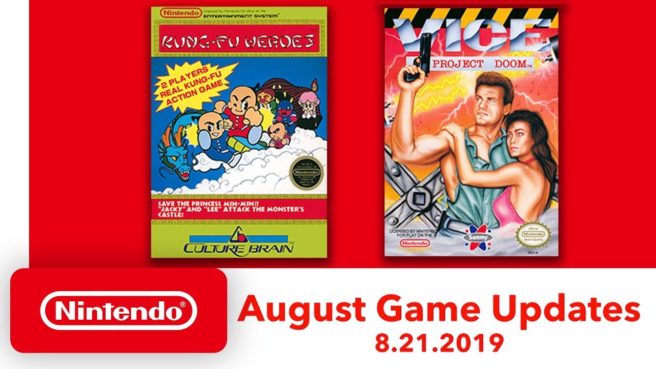 Nintendo has revealed the next round of games that will be added to NES – Nintendo Switch Online in August 2019. This month, subscribers will be able to get their hands on Kung-Fu Heroes and Vice: Project Doom.
Here's an introduction to both games:
Kung-Fu Heroes – Monsters have taken Princess Min-Min and the 10 treasures of the land, and the people have fallen into sorrow. Only Kung-Fu Masters Jacky and Lee can save the princess and retrieve the treasures! Their journey will take them to eight different castles filled with hosts of traps and obstacles. Use punches and the Miracle Kick to defeat the enemies. You will need quick wits and lightning reflexes to make it to the last castle!

Vice: Project Doom – There exists a group of undercover detectives who dare stand up to the evil in the world… They are known as Vice. Officer Quinn Hart, a member of Vice, is on the case and after the truth. High-speed car chases, action-packed battles employing three types of weapons and a mode with three 3D rail-shooting stages all bring this cyberpunk world to life.
And a trailer:
In Japan, Downtown Nekketsu Koshinkyoku: Soreyuke Daiundokai will be offered in place of Vice: Project Doom:
Kung-Fu Heroes and Vice: Project Doom will be out on August 21. The same goes for Nekketsu Koshinkyoku in Japan.
Leave a Reply