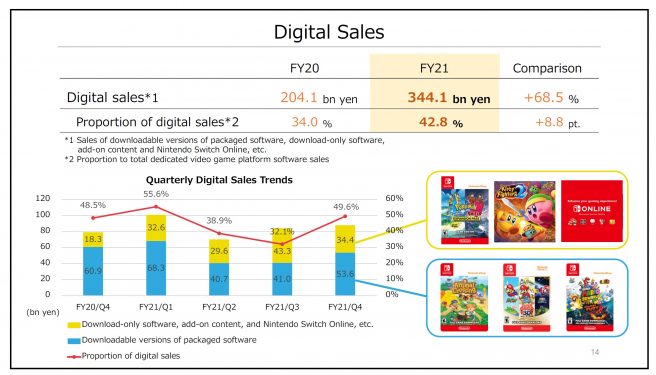 While Nintendo couldn't be doing much better when it comes to Switch hardware and software, that success extends to digital sales. The Big N's digital sales are up 68.5 percent over the past year.
The Pokemon Sword and Pokemon Shield Expansion Pass as well as Super Smash Bros. Ultimate played a big role in sales for add-on content. Nintendo mentioned that there was growth for indie titles, download-only software, and Nintendo Switch Online.
According to Nintendo:
Next, let's talk about the digital business for our dedicated video game platform.

Digital sales grew by 68.5% year-on-year to 344.1 billion yen this fiscal year, and digital sales accounted for 42.8% of total software sales for the dedicated video game platform.

Downloadable versions of packaged software mainly consisting of Nintendo Switch titles made up 59.3% of overall digital sales and greatly contributed to the growth in this area.

Sales also increased for add-on content, including Pokémon Sword Expansion Pass, Pokémon Shield Expansion Pass, and Fighter Pass Vol.2 for Super Smash Bros. Ultimate.

In addition to the growth in sales of indie titles and other download-only software without corresponding physical versions, Nintendo Switch Online sales were also steady.
Leave a Reply